Web Desk (Islamabad) : Federal Government has decided to increase the salary of Government Employees in Federal Government Ministries and its attached departments. In this regard Salary Increase Notification for government employees will be issued after approval from the cabinet. In this regard Finance Division will move the summary for approval from cabinet. Agreement has been signed between the Government Employees Grand Alliance of Pakistan and Federal Ministers Ali Muhammad, Pervaiz Khattak Federal Minister of Defence and Sheikh Rasheed Interior Minister.
25% Salary Increase  Notification of Government Employees.
Following are the terms and conditions of the 25% salary increase for Government Employees
Disparity Reduction Allowance @ 25% of basic pay of BPS-2017 shall be allowed to those civil employees in BPS 1 to 19 (including employees of Federal Secretariate and attached departments) who have never been allowed additional salary equal to more than 100% of their basic pay.
The posts from BPS 1 to 16 will be upgraded on the pattern of Government of KPK.
The time scale promotion will also be considered in the next budget.
Adhoc Relief allowance will be part of the Basic Pay in the budget 2021-22.
The above package is also recommended to the provinces for adoption for government employees. This will also be included in the notification issued by Federal Government.
Any legal proceedings against the protestors are hereby withdrawn including employees of federal government.
Many misconceptions still exist in the minds of government employees regarding salary increase.
FAQs regarding 25% Salary Increase for Federal Government Employees.
Will the pensioners also get benefit from this 25% salary increase? Only salary of the current serving employees will be increased ,pensioner will not get any benefit from this increase.
Provincial Government Employees will get same increase as federal government announced? Punjab, KPK and Balochistan Government employees will get same benefit as announced by the Federal but incase of Sindh nothing clear because the employees of Sindh also got benefit in pay increase in the last budget.
From which date salary will be increased ? From the 1st March 2021
You can check below agreement between Government and employees of All Pakistan Grand Employees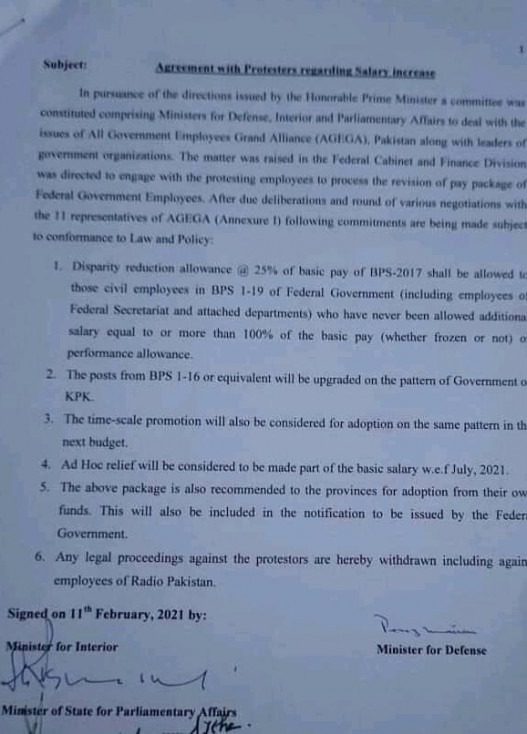 In this regard a press release has also been issued by the Finance Department for Salary Increase 2021 for Government Employees.