CSS Subject Selection for CSS Written Exam is a difficult task . Every aspirant think many times which subject he/she should opt for the CSS Exam. Many questions arises in his/her mind before final selection of subject .Some of them are given below:-
1. Which Optional subject for CSS is high scoring
2. Whether its Course Contents are easy or difficult one , will he should be able to cover the subject as per syllabus .
3. Book available in the market cover entire syllabus for the said optional subject or not ?
4. Best Combination of Optional Subjects for CSS Exam
Above Questions may raise in the mind of CSS aspirant before his final selection of Optional subject for written exam .
It will be better to ignore all above mentioned questions if you are faced with the same situation. Every aspirant must have grip on any subject or he /she has studied this subject in his university course . Even if you have studied any subject in the University and you think that you will be able to achieve your goal .  It will be true but before opting any subject you should go through the syllabus of the subject. As an example  as I did BS in Computer Science but when i gone through the CSS Syllabus i was not able to cover all the syllabus of CS because CSS syllabus for Computer Science subject cover three to four subjects which i studied during graduation , therefore I have not opted this subject in CSS .
How to Select High Scoring Subjects in CSS
1. If you are interested in any optional subject and have a interest in it , Go through syllabus of FPSC for the said subject . If you can cover the syllabus to get good marks then opt it .
2. Go through past papers of the optional subjects which you want to choose for CSS Exam because this will give you a clear idea whether you can do it or not in the exam
3. Trending or High Scoring Subject From time to time we have seen discussions on forums there are high scoring subjects and are easy one . Opting these subjects will be beneficial for your future exam.
4. Subject Opted by Seniors and Position Holders You can choose those subjects which are opted by Position Holders of CSS but must check above mentioned points before opting any subject. Check out the DMC of Muhammad Awaid Irshad which subjects he selected along for his CSS Exam alongwith his obtained marked.
Before selecting any subject for CSS written part you should look into these three important points
1. Subjects which you have studies in your Your Degree Program according to your Qualification .
2. What are your interests , if the candidate opt any subject with interest can get better results
3. Past Trends of CSS Written
Now lets come back to our topic of Subject Selection for CSS
In CSS there are Six Compulsory Papers of 600 Marks which includes English Essay, English Precis and Composition, General Knowledge (General Science and Ability, Current Affairs, Pakistan Affairs ) and Islamic Study or Comparative Study of Major Religions (For Non Muslims). All the candidates should appear in above mentioned compulsory subjects.
Candidates has choice of subject selection of 600 Marks from the optional subjects list from 7 groups with Certain conditions for each group.
Group 1
Group 1 of CSS optional subject contain following subjects of 200 Marks. Only subject can be selected from this group as per rule of FPSC
Accountancy and Auditing
Economics
Computer Science
Political Science
International Relations
Candidates having Commerce background can select Accountancy and Auditing and Economics. While candidates who have studied social sciences in their degree program can opt Political Science and International Relations. While Computer Science is opted by very less number of people because of the syllabus.
Group 2
 Group 2 is combination of Science subjects . So only candidates having studied these subjects in their degree program should opt.Candidate can choose subjects of maximum 200 marks from this group. Group 2 has following subjects .
Physics
Chemistry
Applied Mathematics
Pure Mathematics
Statistics
Geology
Group 3
Group 3 has the combination of subjects which are purely related with administration. As every one has not studied administration subjects in their academic career. Candidates who have done their graduation BBA and MPA mostly opt this subject. Candidates are allowed to opt only one subject of 100 marks from this gorup.Group III has following subjects :-
Business Administration
Public Administration
Governance and Public Policies
Town Planning and Urban Management
Group 4
From Group 4 Candidates can choose only subject of 100 Marks . This group has the combination of Historical Subjects which deals with history . History of India and Pakistan and Islamic History were favorite subjects of aspirants once upon a time . If you opt history of Pakistan and India will help in preparation of Pakistan Affairs paper. Candidates having interest in History should go for these subject.s
History of Pakistan and India
Islamic History and Culture
British History
European History
History of USA
Group 5

Gender Study is one of the favorite subject among aspirants after revision of CSS syllabus in 2016. Gender Study is considered a high scoring subject among the candidates now-a-days because of its limited syllabus and general paper. Its your choice whether to select Gender Study or not but before choosing this subject must go through syllabus of this subject . Other subject in this group are Botany and Zoology which are favorite among those candidates who have science back ground in their academic career. Candidates are allowed to choose only one subject of 100 Marks from this group. List of Subjects of CSS Group 5 are as under :-
Gender Studies
Environmental Sciences
Agriculture and Forestry
Botany
Zoology
English Literature
Urdu Literature
Candidates who did masters in English and Urdu Literature can think of opting both these subjects.
Is Gender Study a High Scoring Subject?
According to past trend of CSS result since 2016 Gender study is a high scoring subject , if you go through syllabus of gender studies you can cover it easily . CSS 2017 Topper Muhammad Awaid Irshad also selected this  .
Group 6
Group 6 is the Combination of all law subjects including Criminology and Philosophy. This group is the favorite group for Law Students because they can get good score from this subjects of this group. Muslim Law and Jurisprudence can be selected by the Medical Students because they have studied this subject in their academic career. Candidates are allowed to select only one subject from this group of 100 Marks. Following the list of Subjects of Group VI.
Law
Constitutional Law
International Law
Muslim Law and Jurisprudence
Mercantile Law
Criminology
Philosophy
Group 7
 Group 7 is another favorite group among the aspirants of CSS because this group contain subjects on Local Languages of all the provinces . Local Languages subjects such as Punjabi, Sindhi, Pashto , Balochi , Persian and Arabic are high scoring subjects and we will advice if you have little know how in writing then must opt these local lanuguage subjects because they are easy to prepare . Psychology still  favorite subject among the candidates but due to long course of this subject candidates are not opting this subject now-a-days. Geography and Journalism & Mass Communication is also selected by many of the candidates . Arabic language has a very short course. Candidates can select only one subject from this group of 100 Marks. Following is the list of Subjects of Group VII.
Journalism and Mass Communication
Psychology
Geography
Sociology
Anthropology
Punjabi
Sindhi
Pashto
Balochi
Persian
Arabic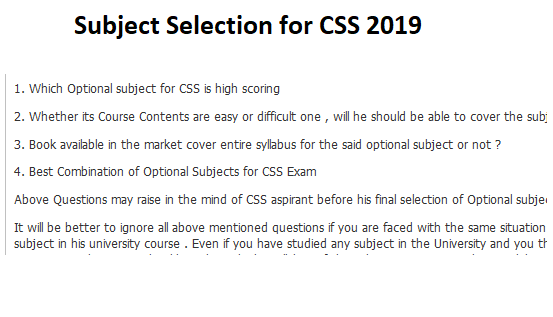 We hope that this subject selection guide for CSS Exam will help you .