Federal Public Service Commission has announced the CSS 2018 Final result after conducting interviews and Psychological test. Shanza Faiq is the CSS topper of 2018 . This year law student got first position in CSS. She did  her B.A LLB Honor's from Lahore University of Management Sciences LUMS in 2016 .
Qualification and biography of Shanza Faiq CSS Topper 2018.
Shanza Faiq belong to Punjab province and she is a Law graduate from LUMS. Later she started her LLM from University of Warwick UK in 2017 in International Development Law and Human rights . She has also been selected for Pakistan's Youth Parliament.  She is the topper Civil Superior Services (CSS) Exam of Pakistan for the year 2018. Currently she is working as Graduate Research Assistant at University of Warwick UK. She has skills and expertise in Law and Legal studies, Legal Analysis, Legal Theory , Human Rights and Democracy and Legislation.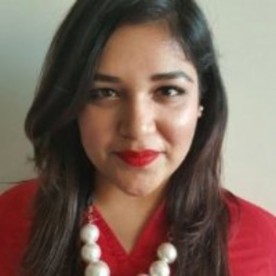 DMC of Shanza Faiq
Detail Marks Certificate DMC of Shanza Faiq which shows her Compulsory and optional subjects obtained marks still awaited.
Shanza Faiq DMC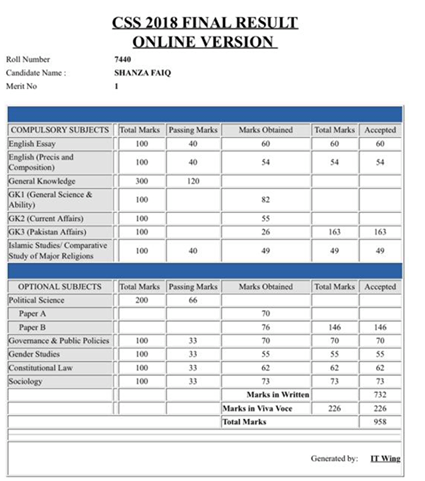 Shanza Faiq DMC is not available yet . Other compulsory subject English Essay, English Composition, Every Day Science, Pakistani Affairs, Current Affairs and Islamiat. Her marks sheet is available now above contain details about marks obtained in optional and compulsory subjects.
Shanza Faiq Optional Subject List
She has opted Political Science Governance and Public Policies , Gender Studies, Constitutional Law and Sociology.
Shanza Faiq Motivational Tv Interview
Q. 1 How much time you taken to prepare Your CSS Exam?
Shanza Faiq answered that her story of CSS Preparation is unique. She has prepared CSS exam only in two and half months. She decided to appear  in the CSS Exam in beginning of November and exam was in February 2018 .
Q.2 Which Academy you joined for CSS preparation?
She answered that she don't believe in joining academies and prepare from ready made notes of CSS .
Q. 3 Which was your subject selection ?
She said that she has chosen subjects of her own choice instead of choosing International law and International law but she did not mentioned her optional subjects.
Q.4 . Which was your source of preparation?
She answered that source of her preparation was mainly from internet and she prepared her own notes instead of choosing ready made notes and academies notes. She has gone through two to three English newspapers on daily basis.
Q. In which subjects she faced Difficulty in her preparation for CSS?
She answered that Compulsory subjects were quiet difficult for her especially Islamiat and Every Day Science because she has done O levels and both these subjects were new for here especially Islamic Studies because you need to remember verses and she faces very difficulty in those subjects which are based on Ratta. Further she said that there is a different way of attempting CSS paper and every thing matters from heading to sub headings and content .
Q. Which group you have decided to choose ?
She replied that she has chosen Foreign Service of Pakistan because her father has served in FSP. She further said that her parents and friends asked her to choose Pakistan Administrative Service PAS group but i decided to choose foreign service because Maleeha Lodhi is role model and she want to become diplomat as others.
You can watch complete tv interview of Shanza Faiq in this video which is her first motivational interview for aspirants of CSS
Shanza Faiq Group
She has been allocated in Foreign Service of Pakistan FSP
Shanza Faiq Facebook id
You can check facebook Id of Shanza Faiq CSS topper 2018 from here (Click Here). Watch the video Shanza Faiq motivational speech and interview of CSS 1st Position 2018.
Also Check