CSS Special Exam 2020 approval given by the Prime Minister of Pakistan. This exam is going to held for the filling of vacant posts which were remained vacant in the previous exam. This information was revealed in today's capital talk show of Hamid Mir. This upcoming CSS Special Exam 2020 for the candidates of Balochistan, Sindh, and KPK. Candidates belonging to Punjab Province will not be able to take benefit from this special exam of CSS. All the posts of CSS are already filled with the quota fixed for Punjab.
CSS Special Exam Syllabus
This is the first time in the history of Pakistan such type of special CSS Exam will be conducted. It is still unclear whether the same rules of CSS 2020 will be applied. Or new criteria will be set for this and as well as CSS 2020 syllabus will be followed or not, it is still unclear. Many questions have arisen in the minds of CSS aspirants, such as will the students get an extra attempt who have completed the previous three attempts? Will there any age relaxation be given to candidates who have reached their age of upper limit.
CSS Special Exam 2020 province wise Quota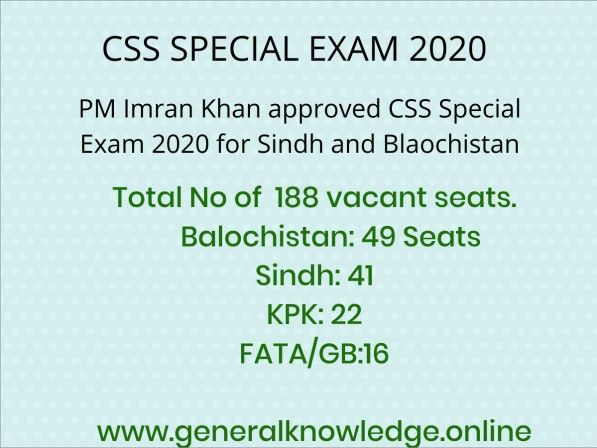 It is the first time in the history of Pakistan, the Imran Khan's Government has allowed a special exam to fill 188 vacant seats.
49 for Balochistan
41 for Sindh
22 seats for KPK
16 seats for FATA/GB)
The allocation will be done other than PSP, PAS, and FSP. Not sure, if the exam/test will be based on screening or complete competitive exams. Wait for this until finalization. The special exam will take place in November 2020 this year. The establishment division is already working on rules and other criteria.
Shehzad Arbab Special Assistant to Prime Minister of Pakistan to Establishment Division in a televised interview confirmed this news. He further said that PM Imran Khan asked for a special exam for CSS. The test date for the Special CSS exam is not mentioned but it will be conducted as the situation become normal. Most probably there are chances Special Exam  will be held in November or December 2020. Furthermore he said in this regard several meetings held with the chairman FPSC and he is agreed on conducting such an exam in the near future.