CSS Special Competitive Exam in Pakistan is going to be held at the end of this year 2020 and those who will clear CSS they will be offered Jobs in different Occupational Groups some of them are Inland Revenue, Information, Railway, and Post Office. Federal Public Service Commission is given responsibility for conducting the CSS Special exam this year as previously. FPSC will conduct CSS Special Exam this year in 19 test centers across Pakistan. CSS stands for Central Superior Services. Advertisement for CSS will be issued by FPSC in June and applications are invited from the candidates in the month of July this year.
CSS Special Exam Age Limit

FPSC has proposed 2 years of relaxation in the upper age limit proposed in the draft for fresh candidates in the CSS Special Exam 2020. Age relaxation by 2 years for fresh candidates means 32 years and 34 years for serving government servants and also age relaxation for schedule tribes of Gilgit Baltistan and Balochistan Province. Age Limit set for CSS Exam 2020 is 30 Years on closing date i.e 31st December 2019 and the Lower age limit is set to 21 Years. Government Servants, FATA, Balochistan and Punjab tribal Areas, and Scheduled Castes will get relaxation of 2 years after submission of Valid Certificate from the Deputy Commissioner of their District as per CSS 2019 rules.
Summary sent to Establishment Division covers two main things, one is age relaxation and second one number of vacancies. Check the complete summary below:-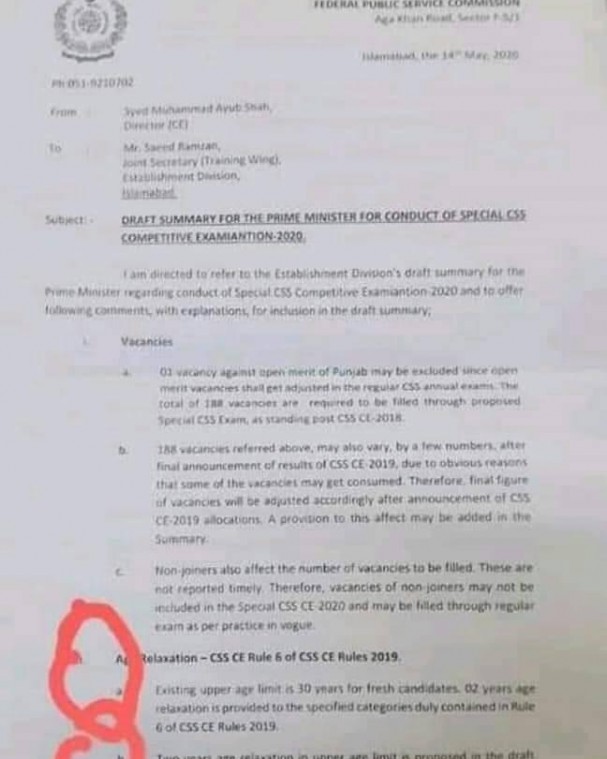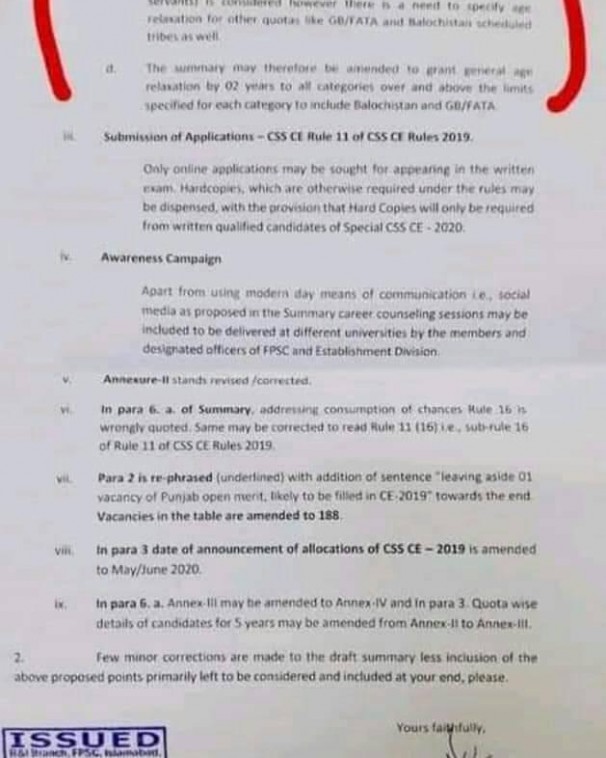 Rules for CSS Special Exam 2020,
As per the above summary Rules for CSS Special Exam 2020 will remain the same as of CSS 219 except age relaxation mentioned above and no major changes will appear in the syllabus yet this year.
Download Complete CSS 2020 rules in PDF (Click Here)
CSS Required Qualification
Candidates having Bachelor Degree are eligible to Apply
Application Procedure for CSS Special Exam 2020
All the candidates who are willing to Apply for CSS Special Exam should submit their Application form Online on the official website of FPSC after submission of fee in the State Bank and National Bank of Pakistan branches. After filling all the required field get a print out of the application form Send this form to Headquarter FPSC within 10 days after the closing date along with educational documents, CNIC Copy, Departmental Permission Certificate (in case of Government Servant), Schedule Caste Form and other required documents along with the checklist and this will be done by the end of May June as per proposed summary of FPSC.
Number of Chances
As per CSS 2019 rules each candidate can avail only three chances subject to meeting age limit criteria and qualification. Candidates were of the opinion they might get an extra chance for CSS special Exam 2020 but this summary does not cover anything regarding number of chances for appearing in this exam.
CSS Subjects
All the interested candidates should appear in the following Compulsory subjects of 600 Marks according to the syllabus set by FPSC.
Compulsory Subjects List of CSS
| | |
| --- | --- |
| Subjects | Marks |
| English Essay | 100 |
| English Precis & Composition | 100 |
| General Knowledge Paper I General Science and Ability | 100 |
| General Knowledge PaperII (Current Affairs | 100 |
| General Knowledge Paper III ( Pakistan Affairs | 100 |
| Islamic Studies (Islamiat | 100 |
| Total Marks | 600 |
In addition to the above 6 Compulsory Subjects candidates need to Opt optional Subjects of total 600 Marks from 7 Groups of Subject as per rule set for each group. Detail of the optional Subjects in all seven Groups is as follows. Download the Optional Subjects List Group Wise in PDF format along with CSS 2020 Syllabus.
CSS Syllabus 2020 Download in PDF