HEC has announced new vacancies. Here is the detail of latest Jobs announced in Higher Education Commission Pakistan .
HEC Latest Jobs Advertisement

Detail of the vacancies announced in HEC is as under :-
Director (BPS-19) 2 Posts
Director Automation (BPS-19) 1 Post
Director Networks (BPS-19) 1 Vacancy
Deputy Director  (BPS-18) 1 Post
Deputy Director System Management (BPS-18) 1 Post
Assistant Director (BPS-17) 1 Post
Assistant Director System Management (BPS-17) 2 Posts
Assistant Director (Web Designing) BPS-17 1 post
Business Automation System Coordination 1 Position
Assistant Private Secretary (BPS-16) 1 Post
Assistant  (BPS-15) 1 Vacancy 7 Positions
Computer Operator (BPS-15) 2 Posts
Telephone Supervisor (BPS-14) 1 Post
Data Entry Operator (BPS-12) 5 Positions
UDC (BPS-11) 4 Positions
IT Assistant (BPS-11) 3 Positions
Driver (BPS-10) 3 Posts
Telephone Operator (BPS-09) 2 Posts
Dispatch Rider (BPS-05) 5 Vacancies
Job Type : Government Jobs on regular and Contract basis
Place of Posting / Job Location : Islamabad, Pakistan
Last Date to Apply: 22nd December, 2018
Gender : Male, Female
How to Apply on HEC Jobs 2018

All the interested Candidates should Download prescribed Application Form from HEC  Website or Click Here
Fill the Application form and attach passport size photograph and Rs 250 Rupees Postal Order, Bank Draft and send it on the address given in the advertisement.
Application Form Higher Education Commission latest Jobs
Download Application Form for HEC Jobs (Click Here)
For more information regarding qualification, experience and other details of HEC Latest Jobs Advertisement 2018 see the complete advertisement below:-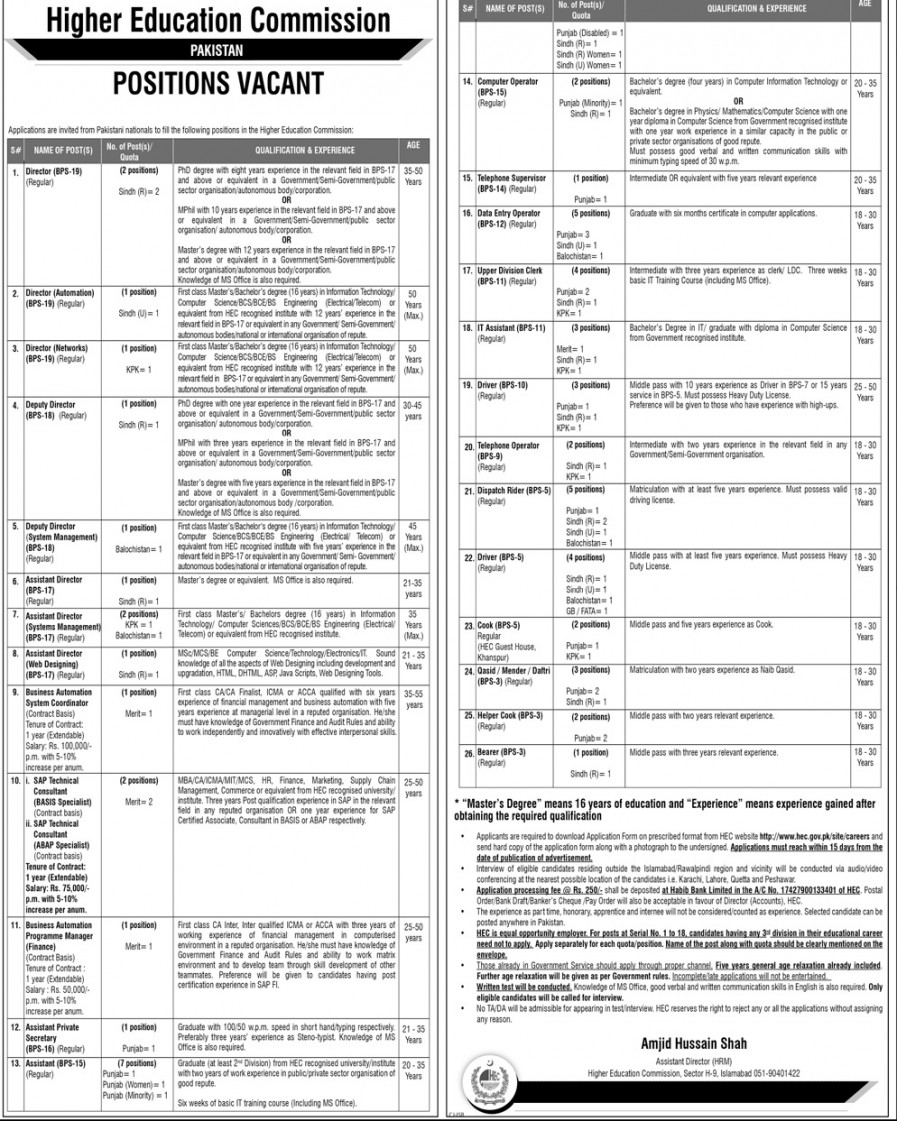 Also Check
Motorway Police 200 Posts of BPS-05 Jobs Advertisement
Motorway Police 521 Posts Latest Jobs Advertisement