Assistant Director OG-2 new positions under Emerging Women Leaders Initiative announced in State Bank of Pakistan for the year 2022 . The detail of the positions of AD OG-2 for women  in SBP 2022 is as under:
SBP Department Jobs

Name of the Post : Officer Grade OG-2 
Department : State Bank of Pakistan, Government of Pakistan.
No of Posts and Regional Quota : 100% Women Quota N.A , (Open Merit : N.A , Women Quota :N.A , Minorities/Non Muslim Quota: N.A, Punjab, Sindh, Balochistan, KPK, AJK, Fata: NA)
Qualification Required in SBP :
(i) Master Degree or Bachelor Degree with 16 years of education having at least 60% marks where percentage apply or 2.5 CGPA out of 4 and 3.0 CGPA out of 5 from HEC recognized institutions having Business Administration, Public Administration, Economics, Commerce, Finance, Statistics, Data Sciences, Actuarial Sciences, Accounting, Computer Sciences, Information Systems and Technology, Mathematics, HRM, Agriculture Management other than B.Sc or M.Sc in Agriculture, Islamic Banking and Finance , Law, Media and Culture Studies,  Philosophy and Physics. 
Gender: Female
Age Limit: 29 years on 30th May 2022 
Last Date to Apply Online : 30th May 2022
Place of Posting : Pakistan where branches of State Bank of Pakistan exists
Monthly Salary : 82000 and other benefits
How to Apply on SBP AD Women Jobs 2022
All the candidates need to submit online application form on SBP Jobs . Follow the below given steps to apply for this job
Visit NTS website , then choose your job on which you want to apply .
Fill Online Application Form enter all details required details
Deposit fee in designated bank branches of NTS
There is no need to dispatch hard printed copy to NTS at this stage.
For more information regarding qualification, experience and other details for Information Technology jobs in SBP please see the Advertisement of State Bank of Pakistan latest Jobs of AD for Emerging Women Leaders Initiative below:-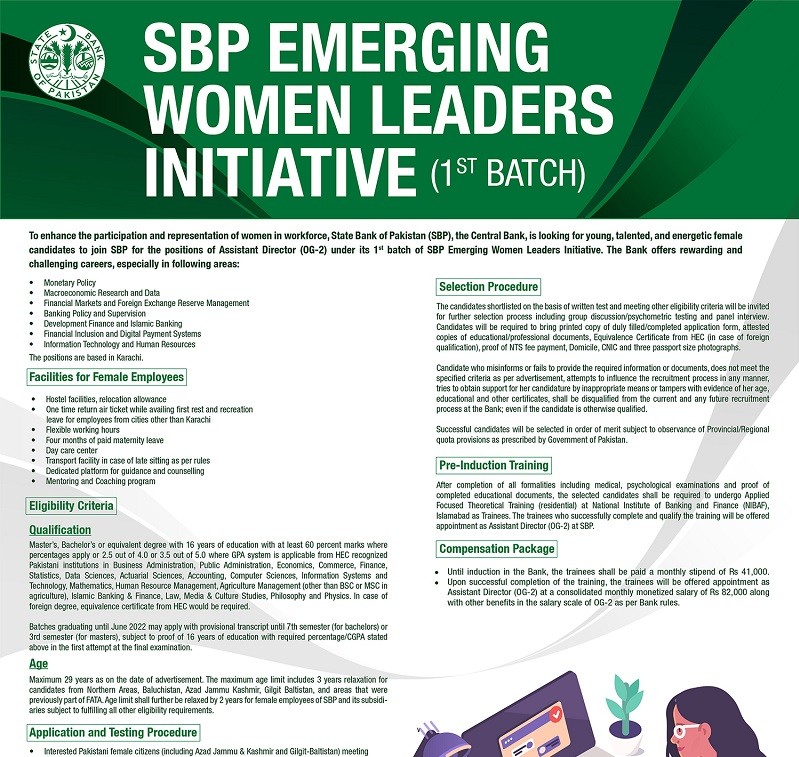 Syllabus for AD OG 2 Emerging Women Leader Initiative SBP Jobs 2022
Although syllabus for AD OG 2 Emerging Women Leaders Initiative SBP Jobs 2022 has not been announced yet but as per our experience the syllabus for this jobs will remain same as other OG II Jobs of SBP . The following will be syllabus of Assistant Director Women in State Bank of Pakistan.
 English 
Quantitative and General Intelligence 
General Knowledge , Current Affairs and Pakistani Economy