FIA is going to announce more than 1500 different category jobs of Assistant, Constable, SI, ASI  from Grade 1 to 15. These jobs will be advertised very soon Inshah Allah as the Advertisement for FIA Jobs 2021 has been moved to the leading newspapers that are Jang, Mashriq, Express, Dawn. 
FIA Jobs detail 2021
The detail of the positions going to announced by the FIA in latest Jobs 2021 the detail is as under:-
| | | |
| --- | --- | --- |
| S.No | Name of the Position | Total Positions |
| 1 | Assistant (BPS-15) | 17 Vacancies |
| 2 | Sub Inspector Investigation SI (BPS-14) | 65 Vacancies |
| 3 | Stenotypist  (BPS-14) | 45 |
| 4 | UDC (BPS-09) | 34 |
| 5 | Assistant Sub Inspector ASI (BPS-09) | 211 |
| 6 | Constable (BPS-05) | 596 |
| 7 | Constable Driver (BPS-05) | 41 |
| 8 | Staff Car Drivers (BPS-04) | 11 |
| 9 | Dispatch Rider (BPS-04) | 04 |
| 10 | Naib Qasid (BPS-01) | 50 |
| 11 | Cook (BPS-01)  | 03 |
| 12 | Chowkidar (BPS-01) | 14 |
| 13 | Sweeper (BPS-01) | 25 |
Department :  FIA , Government of Pakistan
FIA Jobs Qualification  2021

There are 14 category posts so different qualification required for each position ranging from Middle pass to Graduation
Place of Posting : Can be posted in any Province of Pakistan having FIA offices at Islamabad, Karachi, Quetta, Lahore, Peshawer, Multan, Gujranwala and other regional offices.
Last Date to Apply : 14-06-2021
Apply Online : (Click Here to Apply )
Quota : Merit, Women, Balochistan, Sindh, Punjab, KPK, AJK and ex Fata
Age Limit for the Posts of ASI, SI, Assistant, UDC, Constable

For the posts of Assistant in FIA age limit is 28 years and 5 years general relaxation and for the post of ASI , SI , UDC, Stenotypist, Constable, chowkidar, cook and sweeper age limit is 25 years plus 5 years general relaxation. 
How to Apply online on FIA Jobs 2021

All the the interested candidates who want to apply on the above mentioned Jobs they need to submit their application online on jobs.fia.gov.pk .
Information claimed in online application will be treated as final so be careful while submitting your application.
Detailed general instructions guidelines to apply online are available on the website . 
There is no need to submit the hardcopy of the online applications by the applicants. 
Closing date for submitting online applications is 14-06-2021
For more information regarding , qualification ,experience and other details please see full advertisement of FIA Jobs 2021 below:-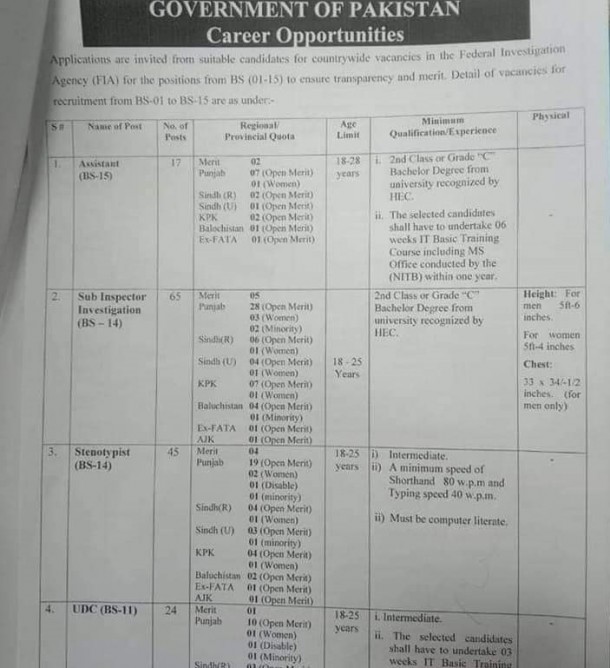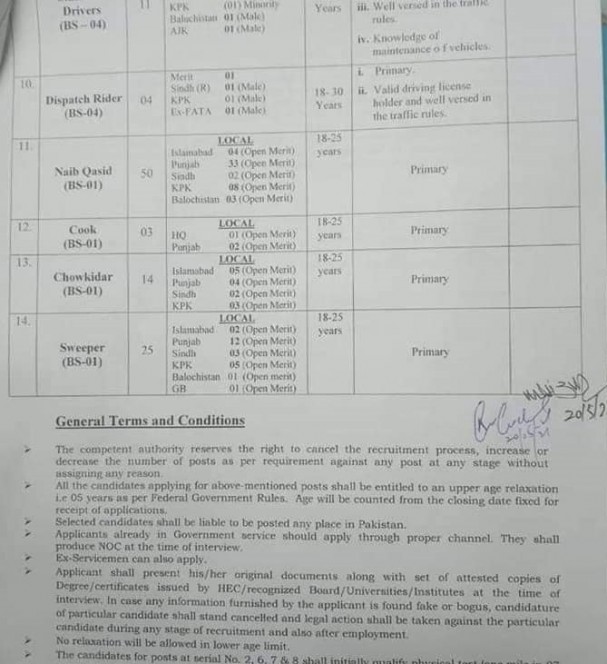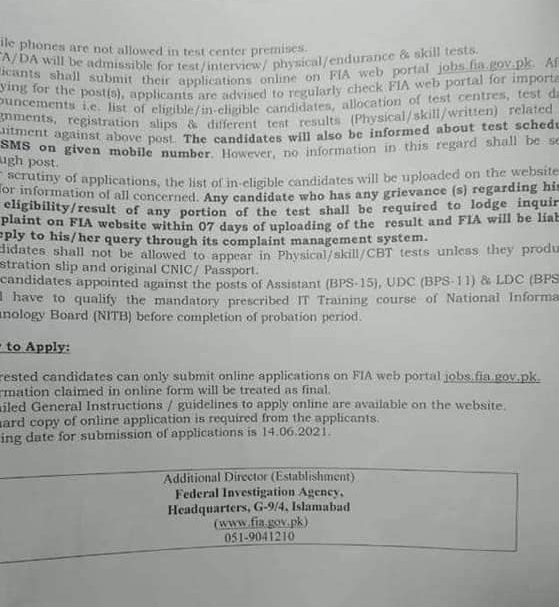 FIA Jobs 2021 Application Form pdf
There is no need to download the FIA Jobs 2021 application form in pdf for applying on FIA latest Jobs 2021. As all the candidates need to apply online on official website of FIA where you will find online form to fill it your education details , personal profile, experience etc. 
General Guidelines 
All the interested candidates who should apply on FIA latest Jobs 2021 will follow the following terms and conditions. 
All the candidates applying for above mentioned posts shall be entitled to an upper age limit relaxation i.e 5 years as per Federal Government Rules. Age shall be calculated from the closing date fixed for submission of applications. 
Applicants who are already in Government service should apply through proper channel and shall produce NOC from the current employers at the time of Interview. 
Applicants shall present their original documents , degree at the time of Interview. 
Mobile phones are not allowed in the test center premises. 
No. T.A/D.A will be admissible in the entire testing process.
Applicants should submit their applications online on jobs.fia.gov.pk . After applying on Jobs candidates are required to visit the web portal frequently for test date and interview of FIA jobs 2021
List of eligible and ineligible , test centers of candidates will be updated on the website in due course of time. 
After scrutiny of application , the list of ineligible candidates will be uploaded on the FIA website .
The candidates who are appointed on the posts of Assistant, UDC, ldc shall have to qualify mandatory IT training course of NITB before completion of probationary period. 
Syllabus of ASI, SI, constable, Assistant , UDC and LDC FIA Jobs 2021
Syllabus for the posts of ASI, SI , Constable , Assisntan, UDC and LDC in FIA  jobs 2021 will be updated in due course of time .