Federal Public Service Commission has announced 407 new posts of Senior Auditor in Military Accounts Department in 2021. The detail of the latest jobs of the Senior Auditor 2021  announced by FPSC is as under:
Name of the Post : Senior Auditor (BPS-16)
Department : Pakistan Military Accounts Department
Ministry : Ministry of Defence
No of Posts and Regional Quota : 407 ( Four Hundred and Seven Senior Auditor) Merit 30 Positions, Punjab : 203 Posts (Open Merit : 173 , Women Quota : 20, Minorities/Non Muslim Quota : 10), Sindh Rural : 46 Posts , Sindh Urban: 32 Posts , Khyber Pakhtoonkhawa : 47 Posts , Balochistan : 25 Posts , Gilgit Baltistan: 04 ,  EX FATA : 12  Positions, AJK : 08 Possts
Qualification Required for Senior Auditor in PMAD :
(i) Second Class Or Grade C Bachelor Degree in Business Administration (Finance/Accounting), Commerce, Economics, Statistics, Mathematics, or equivalent by HEC or ICMA operational level certificate from ICMA after graduation
Last Date to Apply Online : 22nd February 2021
Place of Posting : Can be posted in any Province of Pakistan
Age Limit for Senior Aduditor Jobs 2021 : 20 to 28 Years Plus 5 Years General Relaxation
How to Apply on Senior Auditor FPSC Jobs 2021
All the the interested candidates who want to apply on Senior Auditor BPS-16 Jobs they need to submit the fee on White Challan form download Challan form treasury receipt from here . After depositing the fee visit the FPSC website and fill the application form online, select your desired city of Test and Interview , you also need a scanned copy of passport size photograph when you have completed all the important steps in the form filling click the submitted button . Your application will be submitted and a tracking number will be generated online keep this number for future correspondence and keep the Challan treasury receipt because it will be required on the test date.
Download Challan Form (Click Here)
To Apply Online Visit this link (Click Here)
For more information regarding qualification, experience and other details for Senior Auditor (BPS-16) please see the Advertisement of FPSC below:-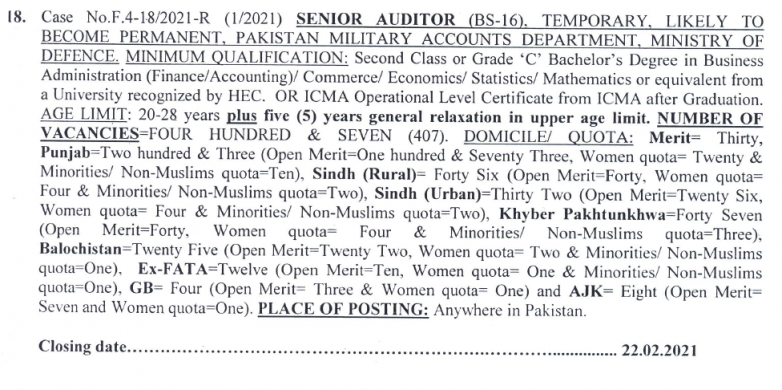 Syllabus For FPSC Senior Auditor  2021 BPS-16
Start Preparation of Senior Auditor FPSC from today . Syllabus of the Senior Auditor is as under :-English Grammar Usage, Sentence Structuring,Heads of Accounts , Accounting Principles & Procedures , Ledger & Cash Book, Re-appropriation of Funds, Preparation of Annual Budget, Journal, Public Procurement Rules, 2004 , Cost Accounting , Preparation of Pension Documents. , Financial Accounting Financial Management , Basic IT Knowledge, Business taxation.
FAQs
Frequently asked questions about the post of Senior Auditor Jobs 2021
Are the all bachelor degree holders are eligible for the post of Senior Auditor . Ans : No only above mentioned bachelor degree with any subject such as Bachelor in Business Administration (Finance /Accounting ), Commerce, Economics, Statistic and Mathematics are eligible for this job.
Are the master degree holders are eligible for Senior Auditor ? Master degree is not mandatory , if any one having bachelor degree with above mentioned subject are eligible for the post of Senior Auditor.
When the Exam  or the test date for the post of Senior Auditor 2021 will be held ? Inshah Allah as per tentative schedule Senior Auditor test date is fixed from 1st August 2021 and onward.
Are the fpsc past papers of Senior Auditor available or not ? Senior Auditor past papers are available and can be downloaded from our website.
suggest Best Book for Senior Auditor Job?