Are you looking for teaching jobs and are living in Punjab , then your waiting period is over because NTS Upcoming 74000 educators positions will be announced in October 2018 . Many aspirants were asking when the posts will be advertised .  Each Years NTS announces posts of educators in education department. Latest news are that Punjab Education Department in a letter to All Chief Executive Educations Officers and asked details for all the vacant posts of ESE (Arts, Science) , SESE (Arts, Science, Arabic, Drawing, PET and Computer Science),  SSE (Arts, Science and Computer Science) and AEO.
 Educator Upcoming Jobs 2018

As we mentioned above recruitment process for the educators upcoming jobs has already been started by Education Department, Punjab and detail of the vacant posts and school wise detail of all the posts of Educators required for further submission by 19th September 2018. It will take some time to consolidate data of Vacant posts for each district of Punjab. Advertisement for the Upcoming Jobs may be published by the mid of October 2018. But some sources are saying that there are 74000 vacant posts in different schools of Punjab including Lahore, Rawalpindi, Multan, Faisalabad , Sialkot, Gujranwala , DG Khan and other district of Punjab. Frequently asked FAQs for the upcoming Educators Jobs 2018.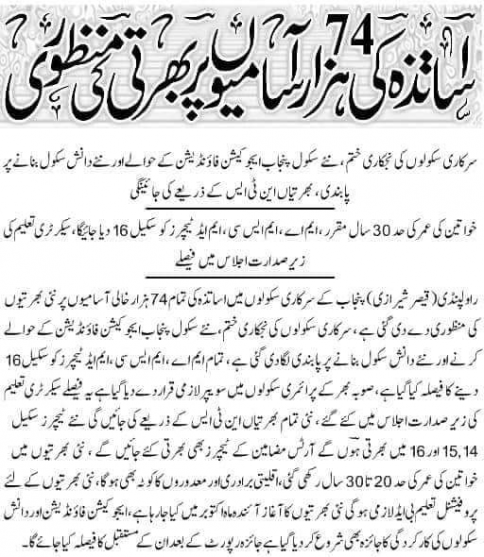 Required Education for Educators Upcoming Jobs 2018.
Sources in Education Department claimed that qualification will remain same i.e Master Degree but few changes will be made in Educators Jobs 2018. B. Ed will be compulsory. Candidates who had done Engineering will also be eligible for the said posts.
How to Apply Online When the Educators Posts will be advertised
All the interested candidates who will be willing to apply online on Punjab Educators will download application form for each category mentioned above , submit the fixed fee as mentioned in advertisement and send complete application to NTS Headquarter within specified time.
What will be Age Limit ?
Age Limit for Punjab Educators 2018-19 will be :-
For Males: 20 to 30 Years + 5 Years General Relaxation = 35 Years
For Females : 20 to 30 Years+ 8 Years General Relaxation=38 Years
What will be the Pay Scale
Appointment will be made on BPS-09 , BPS-14 and BPS-16 for different posts of ESE, SESE, SSE and AEO..
Educator Jobs 2018 will be advertised by Punjab Public Service Commission or Not ?
In the first cabinet meeting of Punjab Government Usman Buzdar and his cabinet decided that all the positions will be filled via PPSC .  But some candidates who are willing to join Education Department got confused . But in the recent meeting Secretary Education told that teachers Jobs will be advertised through NTS.C. But according to our sources NTS will publish the advertisement and National Testing Service will complete all the process.
Are candidates with 3rd Division are eligible for NTS Educators in 2018?
According to the sources candidates having 3rd division in entire Academic Career are not eligible for the educators 2018.
Are the Candidates Having Commerce, Engineering and Agriculture Degree are Eligible for the Posts .
According to the sources as per new policy of2018 candidates having Engineering, Commerce and Agriculture Degrees are also eligible for the upcoming educators in 2018.
 Educator Upcoming 74000 Jobs announcement Date?
Most Probably Advertisement by the NTS will be published by the end of October 2018 or in the start of November 2018 as per decision made in the high level meeting under the chair of Secretary Education , Government of Punjab.
How many marks set for B.Ed, Graduation and NTS test marks for Educators 2018-19
 40% marks are set for NTS test, 25% Marks for graduation , Matric 5%, Intermediate 5%, B.Ed 10 to 15, Masters :  10 to 20 , MS/Mphil and PHD 5% and Interview 5%.
Keep visiting this page for latest news regarding Educators Jobs 2018. We will update you people as soon as the advertisement and other details we received regarding Punjab Teachers Jobs.