Previously Punjab Public Service Commission has announced that Headmaster, headmistress, Subject Specialist (SS) and Senior Subject Specialist ( SSS) posts will be advertised in upcoming jobs section . Aspirants of Headmaster , DEO , SS and SSS were waiting on passed Sunday for advertisement but unfortunately above mentioned posts have been sent back to the administrative department due to unknown reason.
When we contacted PPSC regarding the sending back of Headmaster 2018 Jobs to the Administrative Department ( Education Department ) they clarified it and said all the posts sent back to Education department and will be advertised soon as  they will receive it again.  Here is the snapshot of email received from PPSC on the the postponement of advertising Headmaster Jobs 2018 .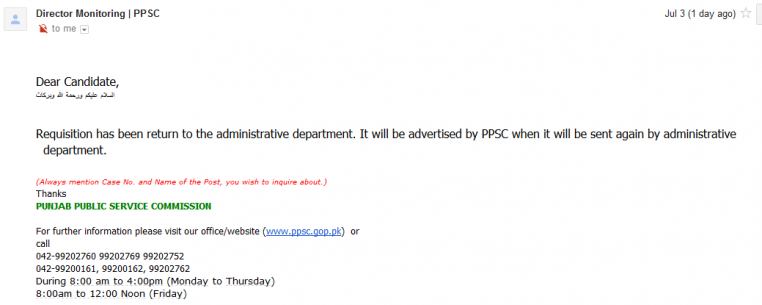 Let see when the PPSC will advertise advertisement of PPSC Headmaster Jobs 2018 . Don't focus on rumors as the most people spread on social media . It is clearly mentioned in the email that posts of Headmaster, Headmistress, Subject Specialist , Senior Subject Specialist will be advertise again as it will be sent back to the PPSC.