145 Posts of Sub Inspector BPS-11 were announced by PPSC in September 2018 in Cooperative Department. While looking at the PPSC past papers of Sub Inspector test will be of mcqs type and will carry 100 marks and of 90 minutes duration and there is also negative marking in the paper . Candidates who are appearing in PPSC test for the first time are asking for how the Sub Inspector PPSC paper 2018 will be. Following is the syllabus of PPSC SI in Cooperative Department, Government of Punjab.
Sub Inspector Cooperative Department PPSC Syllabus
Check below the syllabus of SI Cooperative Society announced by PPSC: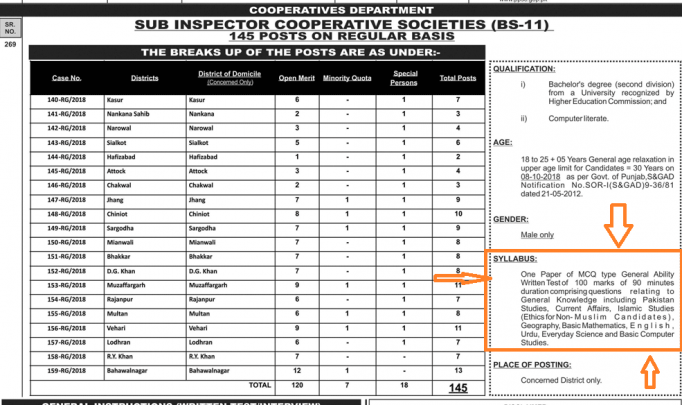 English
English Section for Sub Inspector will include 20 MCQs of English Preposition, Sentence Structuring, Tenses, Active Voice Passive Voice, Synonyms, Antonyms, Direct Indirect .
Urdu
Urdu Portion in PPSC MCQs consists of MCQs related to Urdu Poetry, Poets  Novel and their authors. Famous Historical Poetry Books and their authors may be included in Urdu MCQs.
Basic Mathematics

PPSC SI test will contain Multiple Choice Questions MCQs from the Basic Mathematics. Basic Arithmetic mcqs may include ratios, average, equations, series questions, ages, time and distance related questions.
Current Affairs & General Knowledge
Current Affairs are the latest happenings in Pakistan and around the globe. This test will also includes multiple choice questions on Current affairs . You should remain in touch with all the latest news on politics, international affairs , Pakistan Affairs, sports , technology and personalities. For example now-a-days important topic of discussion in news are Imran Khan Visit to Saudi Arabia, Pakistan India Relations, Kashmir Issue, General Election 2018, Federal Government Cabinet and Provincial Government Cabinet, Questions on FIFA World Cup 2018, Asia Cup 2018 , PSL 2018 and any other topic etc .
Every Day Science and General Science & Ability
Every Day Sceince MCQs are also the compulsory part of JC Test . These MCQs may be taken from the Vitamins (A,B, C, D) , Universe (Planets, Sun, Moon) , Human Body System, Important Inventions, Atmosphere . Analytical Reasoning section contains questions on probability, series and other questions .
Pakistan Affairs
Pakistan Affairs syllabus for the post of Sub Inspector all the important historical events such as East India Company, Round Table Conference, formation of Muslim League, Nehru Report, Quaid-e-Azam 14 points, Allah Abad Address , all the important personalities such Quaid-e-Azam, Sir Syed Ahmed Khan, Sir Agha Khan, Liaqat Ali Khan, history and culture of Pakistan.
Islamic Studies
Islamic Study MCQs Questions are also the part of all type of PPSC tests . Islamic Studies portion includes all the historical events of Islamic History , Ghazawas, Important dates, Information about Basic Pillars of Islam, Khulfa-e-Rashideen , Ashra Mubashra and other basic information related to Hijrat, Madina Pact and other agreements and Ethics for Non Muslims
Basic Computer Studies
Basic Computer Studies include questions related to Fundamental of computers such as Hardware (RAM, ROM, CPU) , Software (Application Software and System Software), Basic Computer Applications, MS Office including Power Point, Word, Excel short cut keys .