Junior Clerk BPS-11 were announced by PPSC in Lahore High Court. While looking at the PPSC past papers of Junior Clerk test will be of mcqs type and will carry 100 marks and of 90 minutes duration and there is also negative marking . Candidates who are appearing in PPSC test for the first time are asking for how the Junior Clerk PPSC paper 2018 will be . Following is the syllabus of PPSC JC in Lahore High Court.
Junior Clerk Lahore High Court PPSC Syllabus
Check below the syllabus of JC LHC announced by PPSC: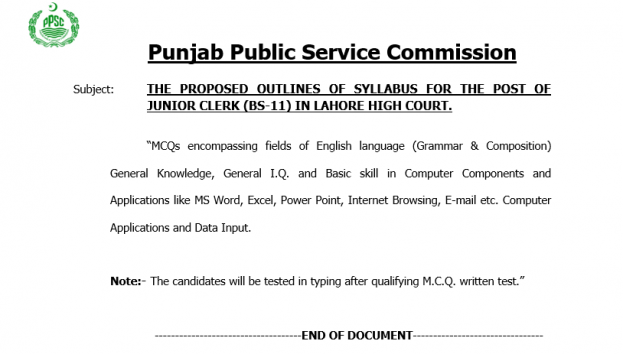 English
English Section for Junior Clerk will include 20 MCQs of English language (Grammar & Composition)
Basic Skills in Computer Components and Application

Basic Skills in Computer Components include questions related to Fundamental of computers such as Hardware Input Devices, Output Devices, (RAM, ROM, CPU) , Software (Application Software and System Software), Basic Computer Applications such as MS Office including Power Point, Word, Excel short cut keys .
We have prepared some MCQs for the preparation of Junior Clerk High Court . Check it below
Junior Clerk Lahore High Court Online Preparation