Statistical Officer Test Preparation Guide Books are available in the market by well known Publishers. Before purchasing any book you should go through the Table content of books whether it covers entire syllabus as per announced by FPSC and it is updated.
Statistical Officer Books

Federal Public Service Commission has announced 111 Posts of Statistical Officer in Pakistan Bureau of Statistics in October 2018. All the candidates who had applied on this post searching for best book for Test Preparation.
FPSC Syllabus for Statistical Officer

Syllabus is as under:-
Statistical Officer Guide book contain following sections according to the FPSC announced syllabus
Part 1 English : 20 Marks
Grammar Usage
Sentence Structuring
Part 2 Professional Test: 80 Marks
Introduction to Statistics
Presentation of Data
Measures of Central Tendency
Index Numbers
Simple Regression and Correlation
Time Series Analysis
Sampling Techniques
Testing of Hypothesis
Techniques of research
Report Writing and presentation
Basic Arithmetic and IT knowledge
There will be total 100 MCQs of 100 Marks and there is no negative marking so never skip any single MCQs. Best book for Statistical Officer Guide Book also contain sample papers and solved past papers of taken by Federal Public Service Commission in Past.
Download Statistical Officer Guide  in PDF format

We will suggest MCQs/ Q & A Statistics for Statistical Officer (Recruitment Test Guide) by Professor Muhammad Arshad. By searching on Google and other search engines you can download free of cost this book. Due to some reasons we can not share the link here with you people. Or you want to buy latest Edition of the book you can get this book in affordable price from the given below links .
Latest Edition of MCQs / Q & A Statistics for Statistical Officer

Always insist on latest editions of the books for test preparation because old edition might not be as per syllabus of the FPSC or PPSC and important sections may be missing from it . You can buy updated latest edition of the book of MCQs / Q & A Test by  only in Rs. 800 online plus courier charges . Here is the Books suggestions for preparation of Statistical Officer
Buy Online Latest Edition of Up-To-Date MCQs / Q & A Statistics for Statistical Officer Recruitment Test Guide by Sohail Bhatti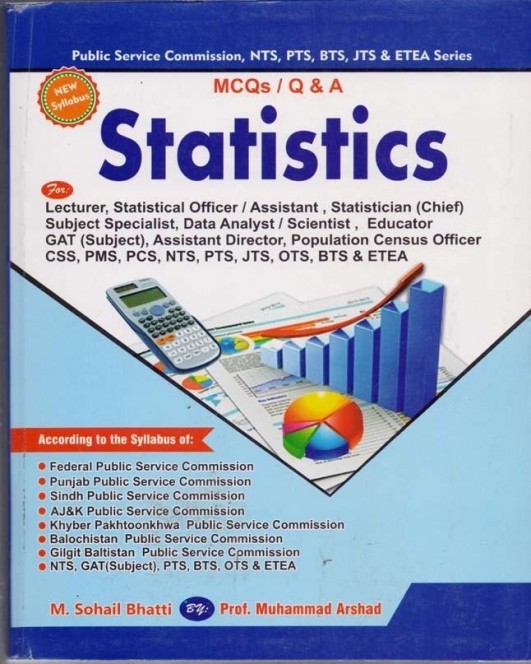 You should also go through past papers of FPSC and PPSC tests  of Statistical Officer , as per our experience more than 30 to 35 MCQs are taken from past papers.