Urdu Lecturer Test Preparation Guide Books are available in the market by many Publishers. If you are looking for best book for lecturer Urdu Preparation according to PPSC and FPSC syllabus first of all go through the contents of that book and check whether this book covers the entire syllabus or not.
Lecturer Urdu  Book

Punjab Public Service Commission will announce soon 110 Posts of lecturers Urdu Male and 137 Posts of Lecturers Urdu  Female . All the candidates who are willing to apply on this post searching for best book for Test Preparation.
PPSC Syllabus for Urdu Lecturers

Syllabus of Lecturer Urdu is as under:-
One paper of MCQs type Written test of 100 Marks of 90 Minute duration comprising questions relating to the qualification of the post i.e 
Urdu Subject
General Knowledge including Pakistan studies, Current Affairs, Islamic Studies, Geography , Basic Mathematics, English, Urdu, Every Day Science and Basic Computer Studies.
There will be total 100 MCQs of 100 Marks and there is negative marking of 0.25 marks on every incorrect answer,  so be careful during attempting the papers of PPSC . Best book for Lecturer Guide Book also contain sample papers and solved past papers of taken from Punjab Public Service Commission.
Download Lecturer Urdu Guide Book in PDF format

We will suggest Lecturer / Assistant Professor Urdu Guide  for PPSC and FPSC Lectuers (Recruitment Test Guide) by Dogar brothers. You can download free pdf book of MCQs for Urdu lectures by making a search on google. It is our suggestion alway buy latest edition of the books because syllabus may change from time to time .
Latest Edition of MCQs /  Lecturer Urdu Guide for PPSC Urdu Lecturers

When you visit market for purchasing books  always insist on latest editions of the books for test preparation because old editions are not updated according  the PPSC Syllabus and important sections might be missed out  . You can buy updated latest edition of the book of MCQs / Urdu Guide for Lecturers and Assistant Professor Test only in Rs. 799 online plus courier charges . Here is the Books suggestions for preparation of Lecturer Urdu
Buy Online Latest Edition of Lecturer Guide for  Recruitment Test Guide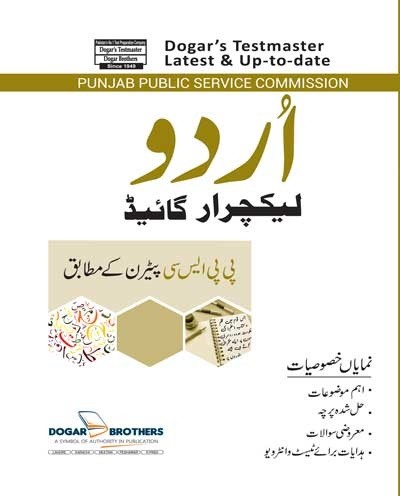 Key features of this book
 It includes key concepts of Urdu
Contain Urdu Lecturer MCQs
Interview Tips
Covers Entire Syllabus
Important thing of this book it include model papers for the post of Lecturer Urdu.
You should also go through past papers  PPSC tests for Lecturer Urdu , as per our experience more than 10 to 20 MCQs are taken from past papers in  competitive exams.
Also Check
2978 PPSC Upcoming Posts of Lecturer Male and Female in Higher Education Department Punjab