Higher Education Commission HEC has announced Undergraduate Indigenous Scholarships for the students of Balochistan and FATA 2018. Applications are invited from candidates having local/domicile certificates of Balochistan /FATA for award of scholarships for undergraduate students in HEC recognized public sector universities of Pakistan .
Eligibility Criteria for HEC scholarships for Students of Balochistan and FATA phase II
A. Applicants must have domicile / local certificate of Balochistan and FATA.
B. Candidates must have completed 12 Years of education with 60% marks in FA/FSc/ICOM/ICS/DAE or equivalent
C. For admission in MS/Phil programs candidates must have completed 16 years of education with 60% marks.
D. Maximum age limit is 22 years on 18th August 2018
E. Candidates must have acquired the required qualification before closing date.
Benefits of HEC Scholarships for Balochistan and FATA covers:
a. Average tution fee including hostel charges : Rs. 60,000 per semester
b. Living allowance of Rs. 6,000 per month with Rs. 500 Annual increment
c. Books allowance of Rs. 5,000 per annum
d. Traveling allowance of Rs. 5,000 per annum
e. Initial settlement allowance of Rs. 10,000 once
Important Information regarding HEC Scholarships for Balochistan and FATA phase-II
A. Scholarships will be awarded on merit and District /Agency Quota
B. Candidates will be shortlisted on the basis of Aptitude Test conducted by HEC and academic credentials scores.
C. The scholarships distribution ratio is 50:50 for both Balochistan and FATA.
How to Apply on HEC Indigenous Scholarship for Balochistan and FATA
All the candidates should apply online on the website of HEC . Print Online Application Form duly signed. Attach photocopy of CNIC or B-Form along with the application form and local/domicile certificate of father/guardian (mandatory) . Attach one passport size photograph . Don't forget to attach original deposit fee slip, Bank Draft , Pay Order and ATM transfer fee of Rs.200 ( Non refundable) and send the application form alongwith above mentioned required documents on the address given in the advertisement or regional centers of HEC Quetta and Peshawer.
Last Date to Apply : 19th August 2018
For more information regarding HEC scholarships for Balochistan and FATA 2018 please see the complete advertisement below:-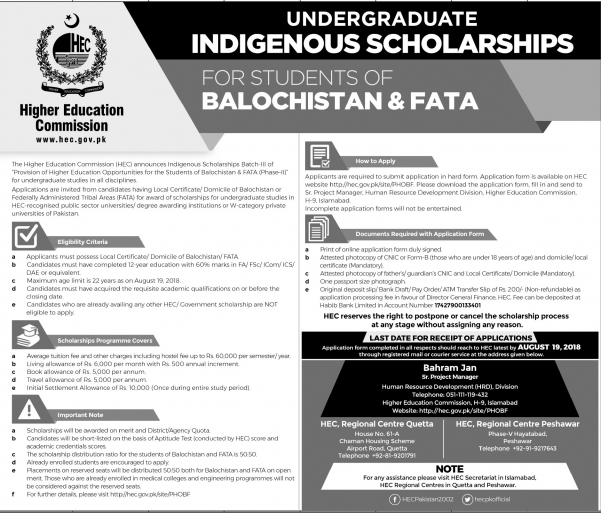 Indigenous scholarships are those scholarships which are for Pakistan based universities.