Custom Inspector today solved paper Batch 4 held on 25th April 2019 02:00 Pm. Download today's FPSC past paper of Custom Inspector/ Intelligence Officer in Pakistan Customs 2019 evening paper along with answer key.
Custom Inspector solved paper Batch 4

Who was the Miss World 2019? Manushi Chhillar of India
Modi World power full leader no? 9
33rd ASEAN summit held in which Country ? Singapore
Who is the Vice president of IATF? China
Which is the most powerful economy of World ? America
Mostly world leader gather in memory of world war 1 at which place ? Paris, France
What was the theme of Water Day 2019? No one leave behind
World International Human Rights day is celebrated each year on ? 10th December
International Day of Elimination of violence against women is celebrated each year on? 25 November
Which shortcut keys are used to select all slides? Shift Key + Select 1st slide
Shortcut Keys to insert hyperlink in word document? CTRL+K
First Finance Minister of Pakistan ? Malik Ghulam Mohammad
When Quaid-e-Azam Mohammad Ali Jinnah born? 25th December 1876
Nehru Pact was signed in which year? 8th April 1950
Repeated words are shown with which color in MS Word? Red
Acid Rain is caused due to ? Air Pollution
What is the Chemical Formula of Magnesium Oxide ? MgO
Header and Footer appear in ?
What is the reason of Auto Correct in word? Automatic data validation function in word processors
What is the unit of Force? Newton
Who is the First Lady of CIA ? Gina Haspel
Namaz-e-Khasoof offered for ? Lunar Eclipse
Objective Resolution passed in which year by Constituent Assembly of Pakistan? March 12, 1949
Meteorology is a treatise by ___? Aristotle
President of the International Court of Justice belong to which Country? Somalia
FATF Vice President belong to which Country? China
What was the motto of World Cancer day 2018? We Can, I Can
Total tenure of Abbasid Caliphate? 508 years
Non Cooperation Movement was called off in which year? 1922
Stephen Hawking died on which date ? 14th March, 2018
Basic Pillars of Islam ? 5
English Portion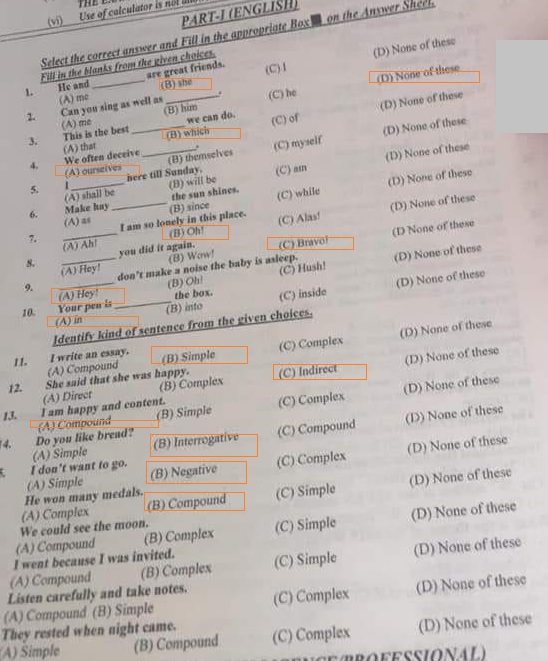 If you remember questions asked in today's Custom Inspector  paper Batch 4 please share below in comments.
Also Check
Custom Inspector Batch 1 Paper 24th April 2019 Morning 10:00 Am
Custom Inspector Batch 2 Paper 24th April Evening 2:00 PM
Custom Inspector Batch 3 25th April 2019 10:00 Am