Punjab Public Service Commission has opened online registration for PMS 2022  on 6th March 2022.  Finally wait is over all the aspirants of Provincial Management Service PMS 2022 now can apply online as registration is open.  PPSC has opened online registration for written test for PMS 2022. 
Name of the Post : PMS 2022 
Department : Services & General Administration Department , Excise and Taxation Department 
Qualification Required for PMS Test :
Second Class Or Grade C Bachelor Degree  or equivalent from a recognized University 
Last Date to Apply Online : 28th March 2022
Place of Posting : Can be posted in any District of Punjab
Age Limit for PMS 2022 
21 to 30 Years . Upper Age limit is relax able for two years  vide S&GAD notification dated 1st January 2022 .
Federal Government Employees who are domicile holders of Punjab and Provincial Government employees of Punjab Province can apply for PMS 2022 upto 35 Years.  Age Limit for MPS 2022 will be determined on 1st January 2022. 
Special Persons can avail upper age limit up to 15 Years
Fee for  PMS 2022
Fee for PMS 2022  is 1000 Rupees. You will need to visit NBP or SBP branches to submit this fee on prescribed challan form . You can download it from here (Click Here)
How to Apply on MPS 2022 Step by Step Guideline
All the the interested candidates who want to apply on Provincial Management Service MPS Test they need to create fresh registration and create profile. Follow the follow steps to apply online for PMS online. 
1. Visit PPSC website or Click here
2. Then click on page Apply Online Section , a new page will appear and click on Link PMS  2022. 
3. Click on the terms and condition and I have read understood this
4. Click on Fill Up Form 
5. Click on the check box and apply online button. 
3. A new Page will appear 
Enter Your CNIC number without dashes and enter again your CNIC
Enter your Email Addres
Enter Your Phone Number  (Remember this phone number should not be portable number from one network to other , otherwise your will not be able to get messages)
Now Click on the Fill Up Application Form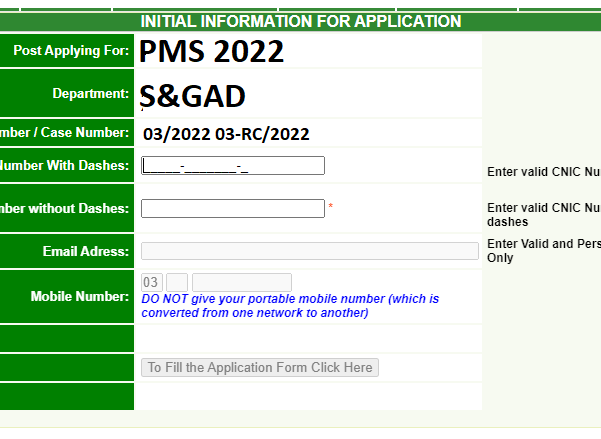 Enter above mentioned information very carefully if you make a mistake you will not be able to alter above mentioned provided information. 
4. Login with login details which you provided while creating a user . A page like this will appear when you will provided user name and password.
5. Enter your Application details one by one and provide following information
 Select Your General (Male, Female, Transgender)
Enter Your Date of Birth as per Matriculation Certificate (It can't be change if entered wrong)
Select whether you are government Employee or Not
Select if you are a disabled person
Select if you are serving in Armed Forces of Pakistan
Select your vaccination status
At the the End click on " To Fill the Application Form click Here"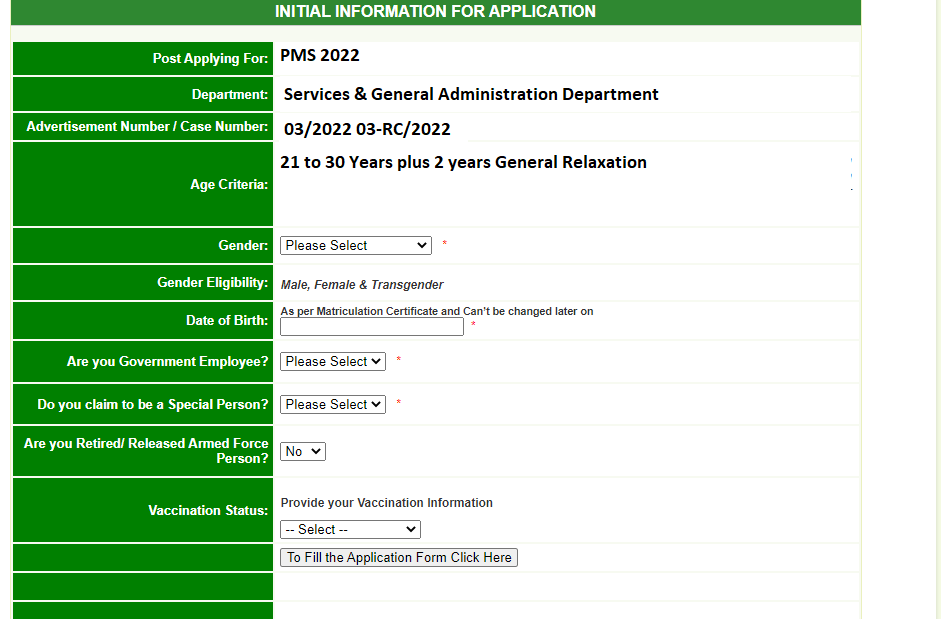 6. In the next section you will need to upload photo for your online application for PMS 2022  . The format of the photo will be JPG.  An other important thing the photo should be less than size of 25 KB. To compress the photo to 30 KB online visit this link .
7. You will also need to upload front picture of CNIC of size of less than 25 KB in jpg format . 
8. Click Add on Bank Receipt Information. You will also need to upload bank receipt information such as Bank Receipt Date, Bank Receipt Number, Bank Name, City Name, Branch Name and Fee Amount of Rs. 1000. You will need to put signature on front side of Bank Receipt Challan and need to upload on PPSC website , Format of the pic should be JPG and will be size of less than 25 KB
9.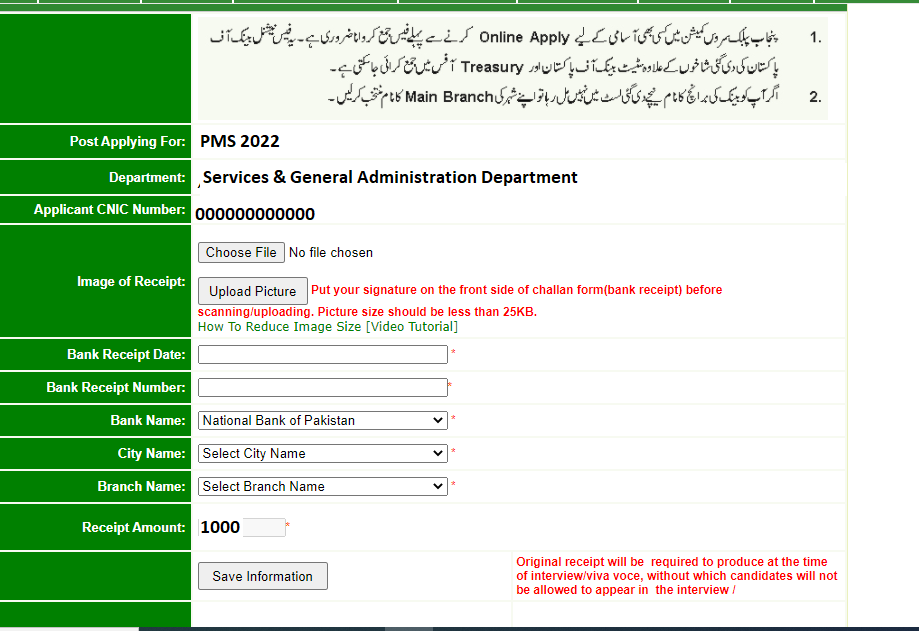 7. When you have uploaded photo  and CNIC its time to enter your Education Details one by one from Graduation to Matriculation . You should enter recent education first and then so on. You will need to provide following educational details in Provincial Management Service 2022 . 
Name of the Examination such as Matriculation or O-Level 
Then select your board University
Enter Your Major subjects 
Enter Your Result Declaration Date 
Choose Examination System Annual or semester System 
Enter Marks Obtained /CGPA
Enter Total Marks/CGPA
Enter your Division /Grade 
When You have entered first Education Detail then Click on Add another Education 
Continue This process until you have entered all educational Record until Graduation 
Repeat above mentioned steps until you entered all qualification such as Graduation, Intermediate and Matriculation . You must click on save button when you have entered above information, otherwise data will be be save.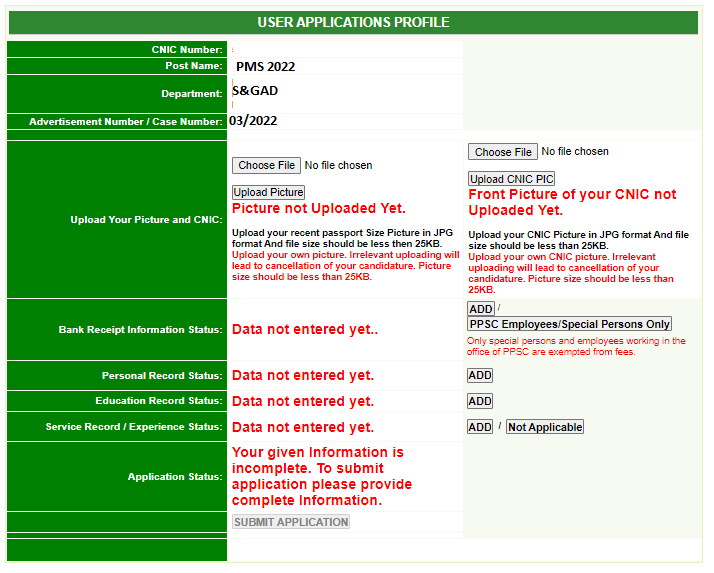 When you have entered education detail. Now its time to enter Your optional subjects one by one from different given groups. You can check optional subjects list from PMS 2022 Syllabus 
When you have completed above mentioned steps.  Now it time to enter Your personal Record Details . You should Enter the following details 
Enter Your Name 
Choose Your Religion 
Enter Your CNIC expiry Date 
Ener Postal Address
Enter Phone Number
Enter Fathers Name 
Choose Your Domicile from the drop down Menu
Enter Domicile Issued Date
Choose Marital Status 
Enter Name of spouse if married
Provide Detail if your relative working in PPSC
Choose Test / Interview Center 
Choose Number of Chances You Availed
At the End Click on Save Information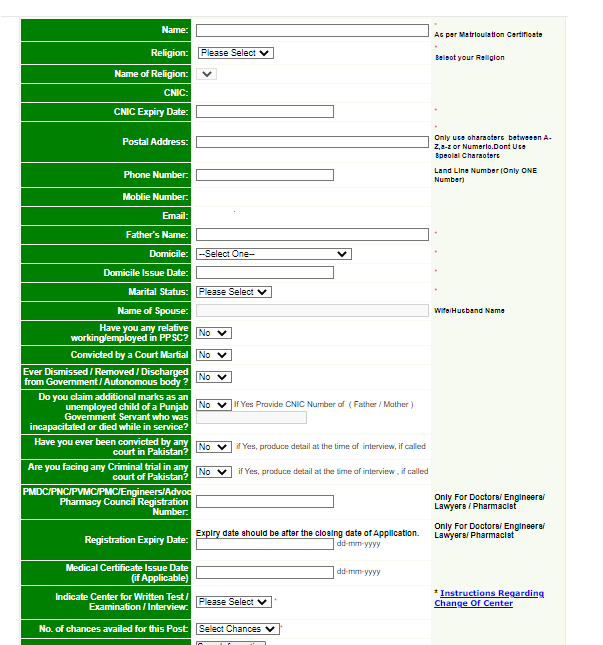 You will need to enter Test Center and Interview Center , then Its time to apply online for PMS 2022 Exam. Click on Submit Button at the button of Application Form. Your application will be submitted successfully. 
Download Challan Form (Click Here)
To Apply Online Visit this link (Click Here) .
For more information regarding qualification, experience and other details for PMS 2022 please see the Advertisement of PPSC below:-
Syllabus For PMS 2022 Test 
Start Preparation of PMS PPSC from today . Syllabus has already been announced (Click here to Download).
 We have collected original papers of PMS on paper day. You can download and check below  PPSC past papers of PMS optional and compulsory Subjects  (Click Here)
To Apply Online : Click Here
To View Syllabus in PDF:  Click Here
PMS 2022 Rules : Click Here
Provincial Management Service 2022  Test Syllabus : Click Here to Download 
PMS 2022 Test Date: Not announced yet