Roll No Slips for Screening Test 2022 have been uploaded (Click Here to Download). Federal Public Service Commission has opened online registration for CSS 2022 MPT Screening Test on 28th November 2021.  Finally wait is over all the aspirants of CSS 2022 now can apply online as registration is open.   FPSC has opened online registration for Multiple Choice Questions Based Preliminary Test (Screening Test ) before written test for CSS 2022. Candidates who will be successful in that MPT will be eligible to appear in Final Exam of CSS 2022. 
Name of the Post : MPT Screening Test CSS 2022 
Department : Establishment Division
Qualification Required for MPT Test :
Second Class Or Grade C Master Degree  or equivalent from a recognized University 
Last Date to Apply Online : 15th December 2021
Place of Posting : Can be posted in any Province of Pakistan
Age Limit for CSS 2022 Screening Test
21 to 30 Years . Upper Age limit is relax able for two years for categories mentioned in Rule 6 of CSS Competitive Examination Rules 2019. Rule 6 includes Government servants having more than 2 years service and candidates belonging to recognized tribes of Balochistan, FATA and Punjab. Age Limit for MPT Test CSS 2022 will be determined on 31st December 2021. 
Fee for  MCQs Based Preliminary Test MPT test
Fee for MPT test is 250 Rupees. You will need to visit NBP or SBP branches to submit this fee on prescribed challan form . You can download it from here (Click Here)
How to Apply on MPT Screening test for CSS 2022 Step by Step Guideline
All the the interested candidates who want to apply on CSS MCQs based Preliminary Test MPT Test they need to create fresh registration and create profile. Follow the follow steps to apply online for CSS screening test online. 
1. Visit FPSC website or Click here
2. Then click on page Apply Online Section, a new page will appear and click on Link MCQs based Preliminary Test for CSS CE 2022. 
3. As you need to create fresh profile . Click on new user . A page like this will appear. Enter the following details here 
Candidate Full Name 
Login name which should be minimum of 4 character and having alphabets or number
Enter your password
Enter your email address
Enter Computerized CNIC #
Enter Verification Code 
Click on Submit button . A new user will be created .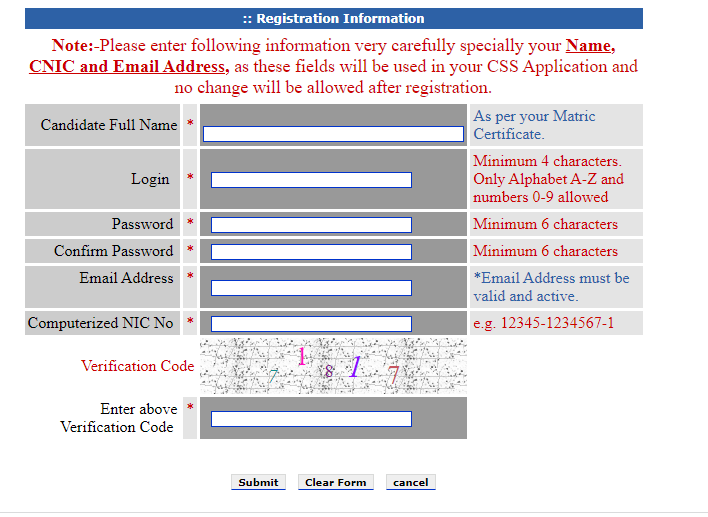 Enter above mentioned information very carefully if you make a mistake you will not be able to alter above mentioned provided information. 
4. Login with login details which you provided while creating a user . A page like this will appear when you will provided user name and password.
5. Enter your Application details one by one and provide following information
 Enter Your Name 
Enter Your Father name 
Select Date of Birth from the calendar
Enter Religion
General 
Marital Status 
Husband Name in case of married female
Write Postal Address 
Write You Permanent Address as per CNIC
Select Domicile
Select District of Domicile 
Email
Phone Number
Mobile Number 
Enter CNIC number without dashes
In age relaxation Section select whether you are within age limit or claiming age limit for different categories such as Government Employee, Armed Forces, Scheduled Caste and Buddhist Community etc
At the end click on Save Button your provided Information will be saved in Applicant Details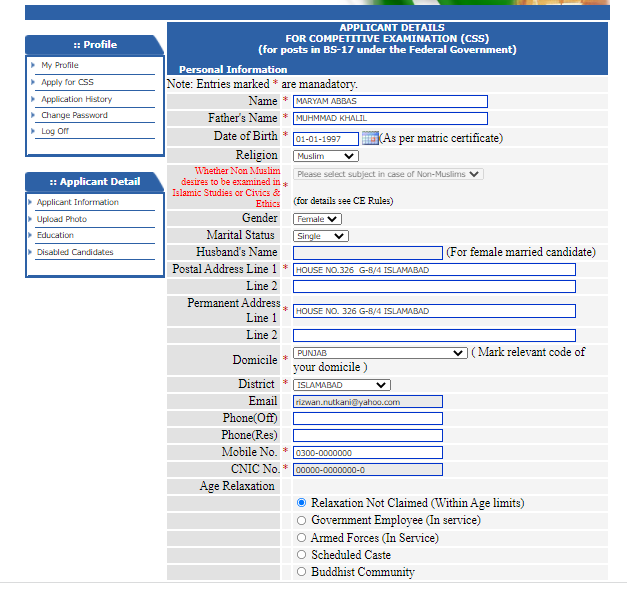 6. In the next section you will need to upload photo for your online application for MPT CSS 2022 Screening Test . The format of the photo will be PNG, JPG, or GIF File. An other important thing the photo should be of Maximum size of 30 KB. To compress the photo to 30 KB online visit this link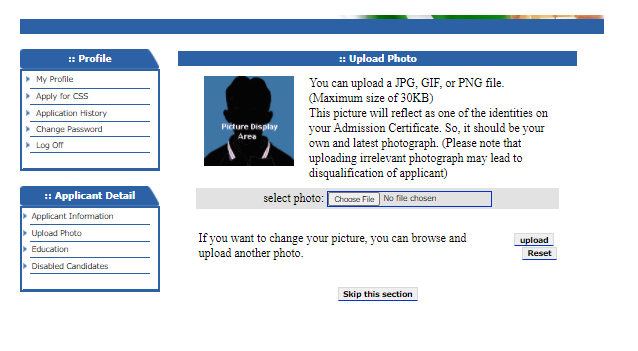 7. When you have uploaded photo its time to enter your Education Details one by one from Graduation to Matriculation . You should enter recent education first and then so on. You will need to provide following educational details in MPT Test CSS 2022. 
Name of the Examination such as B.A, BS 
Then select your degree result type whether it is CGPA Based, Grade based or Division . 
Then choose Medium of Instruction English or Urdu 
University / Examining Body (university name or Board Name)
School College University Location 
From Date or Starting date when you were enrolled in the University , School or College
Enter Result Declaration Date 
Then Select M, R and F on your qualification criteria . Choose R if this is qualification which makes you eligible for appearing in the examination. In case You are having M.B.B.S degree Mark M and if you are graduated from any foreign University mark F. 
Enter three major subjects in separate box as Major subject 1, 2, 3 
If you have got position or award then you should also fill distinction box then click save.
Repeat above mentioned steps until you entered all qualification such as Graduation, Intermediate and Matriculation . You must click on save button when you have entered above information, otherwise data will be be save.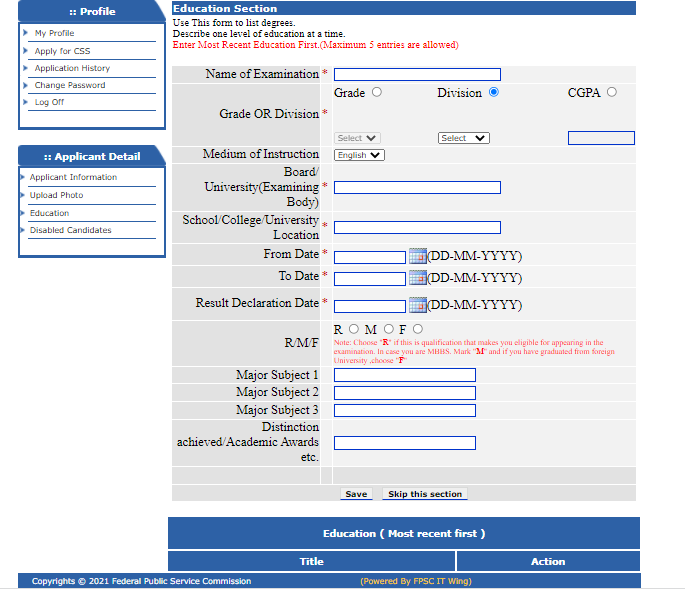 When you have completed above mentioned steps . Its time to apply online for MPT CSS 2022 Exam. In the profile section you will find Apply for CSS button , click on it . Then click on Apply Online Button . A page like this will appear. Enter following details :-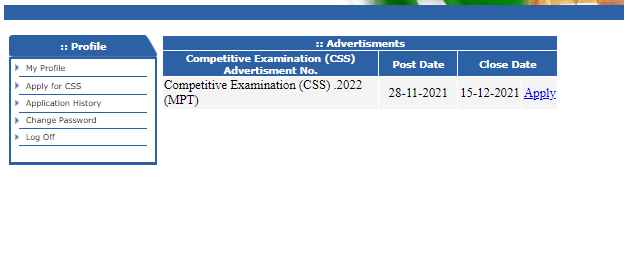 Enter Treasury Receipt No. You will find this on the challan form . A unique number provided on Bank Challan for MPT test . 
Enter the amount Rs. 250 . It will be already entered . There is no need to change it . 
Then enter Bank or Branch Name it should be National Bank of Pakistan NBP if you submitted Rs. 250 fee for MPT Screening Test for CSS 2022 .
Enter the Bank Branch District where you have submitted fee 
Bank Branch Code . You can check the NBP branch codes from this link but this box is not mandatory . If you don't have bank branch code leave it blank . 
Enter the treasury receipt date . Choose from the calendar . The date on which you submitted fee. 
Choose Test Center for MPT test . Select your test center carefully because you will not be able to change it later. 
Then Click on Proceed on Next . Verify your provided information and click on submit button . Your application will be submitted successfully. A tracking number will be generated keep it at safe place because it may required at later stage.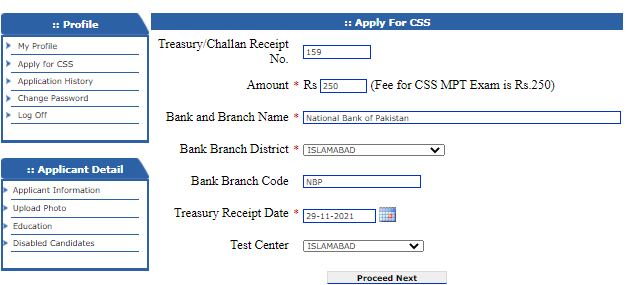 If you have not completed above mentioned prerequisites such as uploading photo, entering applicant details and education details you will not be able to submit application . Without submission of application you will not able to appear in the MPT test for CSS 2022. 
Download Challan Form (Click Here)
To Apply Online Visit this link (Click Here) .
For more information regarding qualification, experience and other details for  MPT Screening Test CE 2022 please see the Advertisement of FPSC below:-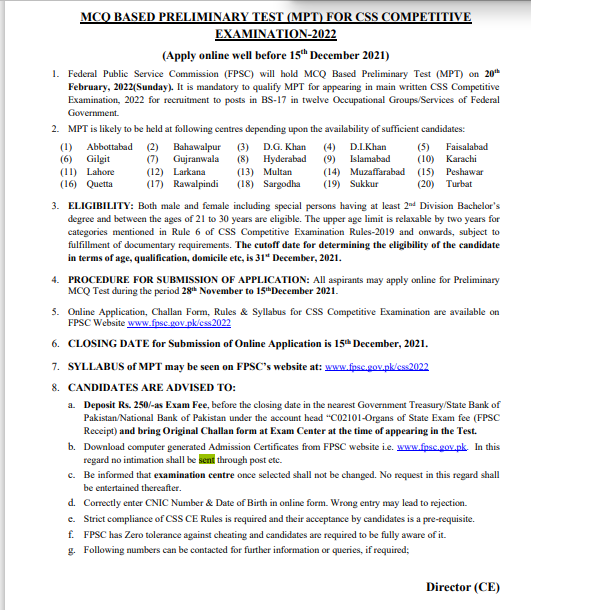 Syllabus For CSS 200 MPT Screening Test 
Start Preparation of Multiple Choice Based Preliminary Test  FPSC from today . Syllabus has already been announced (Click here to Download). There will be one paper MCQs objective type of 200 marks of 200 Minutes having subjects from Current Affairs, English, General Knowledge and Urdu . Passing marks of MPT test will be 66 Marks out of 200. 
Past Papers of MPT CSS 2022 
Although the past papers of MPT CSS 2022 Screening Test are not available as it is first time in the history of FPSC this test is going to be held. Although you can check one Paper of FPSC as it will follow the same pattern . We have collected MCQs from original papers of FPSC on paper day. You can download and check below  FPSC past papers of FPSC (Click Here)
To Apply Online : Click Here
To View Syllabus in PDF:  Click Here
CSS 2022 Rules : Click Here
CSS 2022 MPT Test Syllabus : Click Here to Download 
MPT Screening Test Date: 20th February 2022 (Sunday)