Hafiz Ali Naeem Sheikh is the topper of CSS 2021. Federal Public Service Commission has announced the CSS 2021 Final result after conducting interviews and Psychological test in 2021. He cleared CSS three times and it was his final attempt. He is graduated from LUMS.  He secured 921 Marks out of 1500 hundred . He obtained 721  marks in written part and 200 marks in Viva Voce. Check Complete DMC (Click Here) of Hafiz Ali Naeem Sheikh here .
Qualification and biography of Hafiz Ali Naeem Sheikh CSS Topper 2021.
Hafiz Ali Naeem Sheikh belongs to Punjab province . He is graduated from LUMS.  He appeared in CSS 2021 under Roll No. 04704. He is the topper Civil Superior Services (CSS) Exam 2021. Hafiz Ali also cleared PMS 2021 exam and was placed on 15th in Merit List.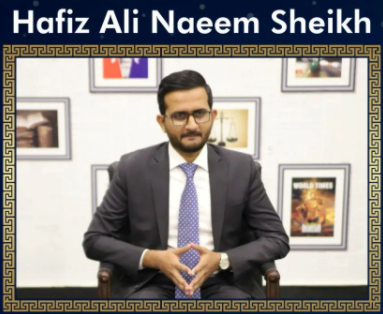 DMC of Hafiz Naeem Ali Sheikh
Detail Marks Certificate DMC of Naeem Ali Sheikh which shows his Compulsory and optional subjects obtained marks are below:-
Hafiz Naeem Ali Sheikh DMC is available Now. Check His DMC from here. His compulsory subject English Essay, English Composition, Every Day Science, Pakistani Affairs, Current Affairs, and Islamiat..
Optional Subject List
Optional subjects of Hafiz Naeem Ali Sheikh 
International Relations of 200 Marks
Business administration 200 Marks
History of USA
Philosophy
Punjabi
Ali Sheikh Group Allocation

Hafiz Naeem Ali Sheikh has been allocated in Pakistan Administrative Service of Pakistan PAS (DMG)
Hafiz Naeem Ali Sheikh Facebook id
You can check Facebook Id of Ali  CSS topper 2020 from here (Click Here). Watch the video motivational speech and interview given to Jahangir World Times.
Also Check
Rana Haider Tahir CSS topper 2019