Federal Public Service Commission has announced the 450 positions of  of Patrol Officer (BPS-14) in Consolidated Advertisement No. 2 . The detail of the Patrol Officer FPSC Jobs 2018  is as under :-
Patrol Officer (BPS-14) Jobs 2018 under Ministry of National High Way and Motorway Police 
Qualification required for Patrol Officers 2018 : Second Class or  Grade C Bachelor Degree from recognized Universities.
Physical Standard of Fitness for Motorway Police Patrol Officer
For Male : Height :  5' feet and 8" inches  ( 2" inch relaxabale for candidates of Balochistan Only )  Chest  : 33" to 35 " inches ( 1" inch relax able ) 
For Female : Height : 5' feet and 4" inches ( 1" inches relaxable for candidates of Balochistan only )
Driving Proficiency also requrired.
Age Limit for Patrol Officer NH & MP Jobs 2018 : 18 to 25 years  ( 5 years general relaxation including Government Servants )
No of Posts & Provincial Quota : Merit :Twenty Three ( 23 Posts) , Punjab : One Hundred and Sixty Positions ( 160), Sindh (R) Thirty Eight 38, Sindh (U) Twenty Five 25, Khyber Pakhtoonkhawa : Thirty Eight (38)  , Balochistan (Seventeen) 17 , Gilgit Baltistan  :  Thirteen 13 , AJK : Seven 7
Last Date to Apply : 19th February 2018
How to Apply on Patrol Officer (BPS-14) NHMP Motor way Police Jobs 2018
All the the interested candidates who want to apply on Patrol Officer Jobs they need to submit the fee on White Challan form download Challan form treasury receipt from here  . After depositing the fee visit the FPSC website and fill the application form online, select your desired city of Test and Interview , you also need a scanned copy of passport size photography when you have completed all the important steps in the form filling click the submitted button . Your application will be submitted and a tracking number will be generated online keep this number for future correspondence and keep the Challan treasury receipt because it will be required on the test date. 
for more information regarding qualification, experience and other details please see the Advertisement of FPSC Patrol Officer (BPS-14) below:-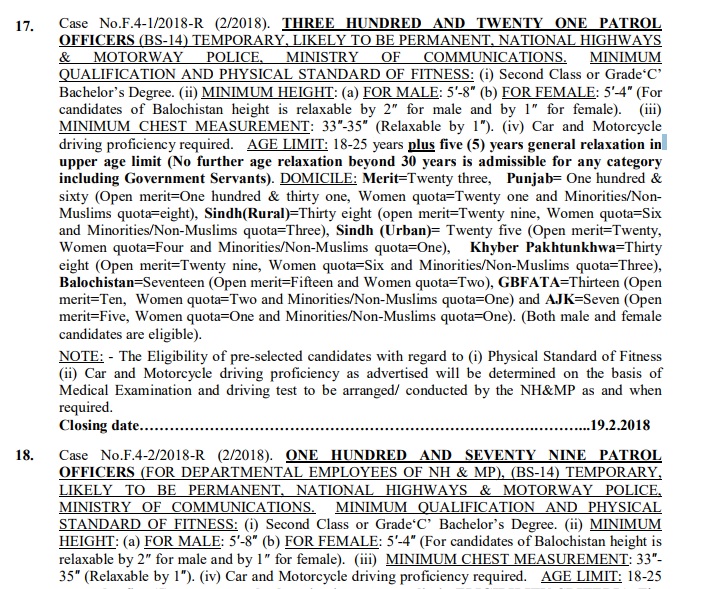 We have prepared some Current Affairs MCQs which will helpful in preparation of Current Affairs portion in NHMP Jobs 2018

Current Affairs MCQs set 1 for the preparation of FPSC Patrol Officer
Current Affairs MCQS Set 2 for the preparation of FPSC Patrol Officer
Current Affairs MCQs Set 3 on Pakistan Super League Season 3 Special
Patrol Officer test preparation Current Affairs MCQs Set 11
Current Affairs MCQs 2017 PDF Book 1 Free Download for FPSC Patrol Officer
Current Affairs MCQs 2017 PDF Book 2 Free Download