Tazeen Zafar got third position in CSS 2020. FPSC has announced the CSS 2020 Final result on 6th May 2021.  She has been allocated in Pakistan Administrative Service (PAS).
Qualification and biography of Tazeen Zafar CSS 3rd Position 2020.
Tazeen Zafar also belongs to Punjab province . She completed her graduation from Kinnaird College for Women Lahore. She is doctor by profession.  Tazeen father is from Judiciary and her mother is from teaching background and her sister also cleared CSS and working in PAS service. This was her first attempt of CSS. She appeared in CSS 2020 under Roll No. 27341. She secured Third Position Civil Superior Services (CSS) Exam 2020.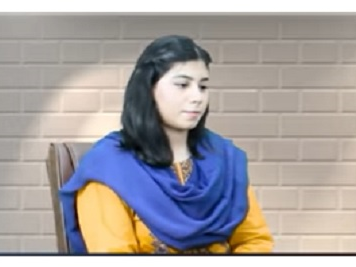 DMC of Tazeen Zafar
Detail Marks Certificate DMC of Tazeen Zafar which shows her Compulsory and optional subjects obtained marks are below:-
Her  DMC is not available yet. His compulsory subject English Essay, English Composition, Every Day Science, Pakistani Affairs, Current Affairs, and Islamiat.
Optional Subject List
Optional subjects of Tazeen Zafar are
International Relations of 200 Marks
Zoology 100 Marks
History of USA  100 Marks
Criminology 100 Marks
Punjabi 100 Marks
Tazeen Zafar Group Allocation

Tazeen Zafar  has been allocated in Pakistan Administrative Service of Pakistan PAS (Ex DMG)
Tazeen Zafar Facebook id
You can check Facebook Id of Tazeen Zafar CSS Third Position 2020 from here (Click Here). Watch the video motivational speech and interview given to Jahangir World Times.
Q. What was your approach in preparing written part? 
Ans. She said that her approach was to find teachers for each subject. In Criminology Sir Kamran Adil helped her.  For Interview preparation Sir Rana Tanveer and Sir Tamour Bukhari  helped her a lot. 
Q. Does the guidance play any role in CSS Preparation?
Ans. Yes guidance can play a critical role in preparation of CSS Exam. You should take guidance and feedback from the mentors in your preparation.
Also Check
Maheen Hassan CSS topper CSS 2020
Rana Haider Tahir CSS topper 2019