Federal Public Service Commission has announced 33 new posts of Assistant Director Air Port Security Force in Consolidated Advertisement No. 01 /2022 published on 31st December 2021.  The syllabus of the AD ASF will announced by Federal Public Service Commission soon . Candidates who are appearing in FPSC test for the first time got confused and asking for how the AD ASF  paper will be . FPSC has followed the following pattern in Assistant Director Airport Security Force past papers . Following is  the syllabus of AD ASF. 
MCQs Object Type Test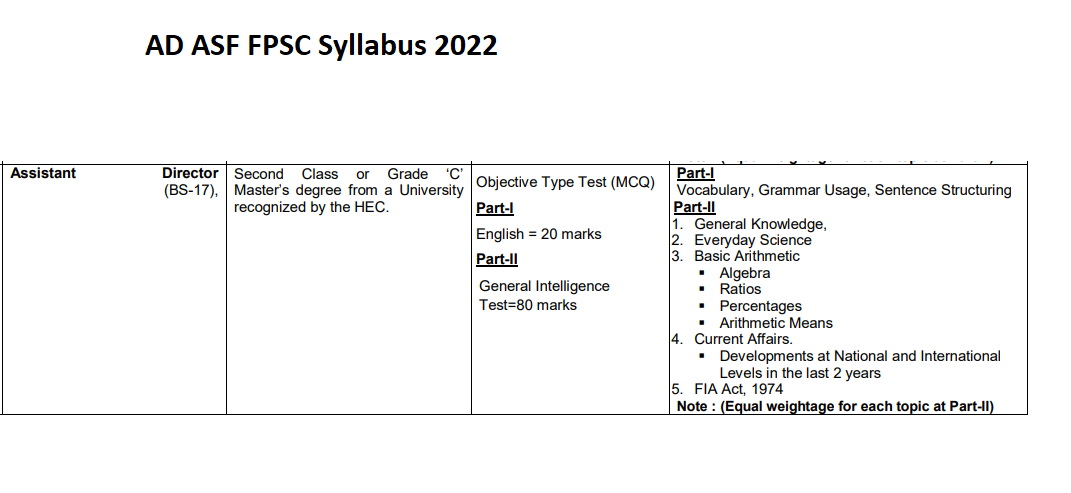 Part 1 English 20 Marks 
English 
Part 1 will be the English Portion and carry 20 marks. English Portion will consist of vocabulary, composition and sentence structuring . MCQs in AD ASF English Section test may contain synonyms, antonyms , analogies, prepositions, and completing the sentences, Idioms and phrases , direct indirect ,active voice and passive voice. 
Part 2 General Intelligence Test (80 Marks) 
AD ASF Part 2 will consists of   following Sections. (Equal weightage for each section of Par 2)
General Knowledge
Every Day Science
Basic Arithmetic ( Algebra, Ratios, Percentages, Arithmetic Means)
Current Affairs  Developments and happenings at National and International level in last 2 Years
Now we will discuss in detail each portion of the Assistant Director Air Port Security Force Syllabus
Developments at National and International Level in the last 2 years . This portion will consists of MCQs on Current Affairs from the last two years. 
Current Affairs are the important day to day happening  . You should remain in touch with the latest news on politics, international affairs , sports , technology and personalities. Current Affairs now-a-days is the part of all test conducted by FPSC or any other public service commission. AD ASF tests of FPSC will contain a part of Current Affairs Multiple Choice Questions. We have prepared some important MCQs sets . Check them below:-
Current Affaris MCQs 2017 Book PDF Free Downoad
Current Affaris MCQs Set 1
Current Affaris MCQs Set 2
Current Affaris MCQs Set 3
Current Affaris MCQs Set 4
Current Affaris MCQs Set 5
Current Affaris MCQs Set 6
Current Affaris MCQs Set 7
Current Affaris MCQs Set 8
Current Affaris MCQs Set 9
Current Affaris MCQs Set 10
Current Affaris MCQs Set 11
Current Affaris MCQs Set 12
Current Affaris MCQs Set 13
Current Affaris MCQs Set 14
Current Affaris MCQs Set 15
Current Affaris MCQs Set 16 CPEC
General Knowledge MCQs
General Knowledge is also the part of AD ASF test. This section will contain MCQs from World Personalities, Currencies, GK about Pakistan, largest , longest, smallest , mountains, glaciers etc. 
General Knowledge About Pakistan MCQs set 1
General Knowledge MCQs Set 2
General Knowledge MCQs Set 3
General Knowledge MCQS Set 4
General Knowledge MCQs Set 5
General Knowledge MCQs Set 6
Every Day Science
Every Day Science MCQs are the compulsory part of the FPSC AD ASF test  . General Science and ability MCQs may be from the Universe , Human Body System, Inventions, Atmosphere .  Analytical Reasoning section contains questions to check the IQ of candidates and these questions give tough time to the candidates. 
General Science and Ability MCQs Online Test 1 
General Science and Ability MCQs Online Test 2
Basic Arithmetic  MCQs test of FPSC for AD ASF (Algebra, Ratios, percentages and Arithmetic Means)
Basic Arithmetic is one of the important part of Assistant Director Airport Security Force test and can play a vital role in not only passing the test but getting high scores on Merit. Concepts on Ratios, Percentages will make you to solve this section without any difficulty . Sample of Basic Arithmetic Section is as under:
Basic Arithmetic MCQs Online Test 1